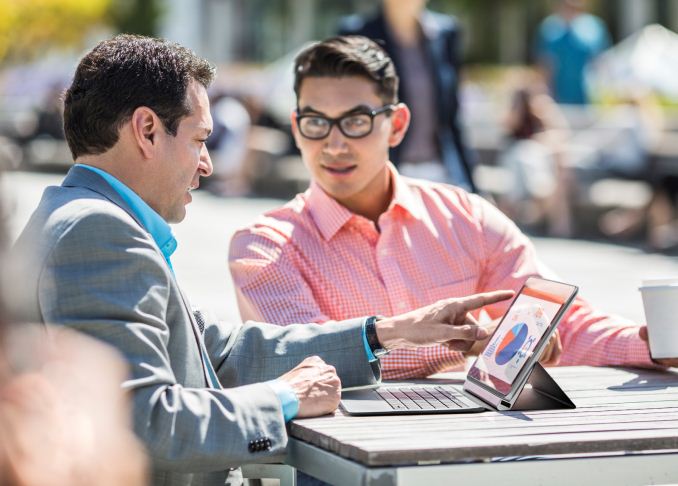 HP Announces New Business Mobility Devices
Today HP announced a collection of product updates with their "Business-First" approach to mobility; the full press release has all the pertinent details. The core message HP is trying to convey is that they are putting business use cases front and center. All of the devices announced today fall into the category of tablets, with a couple of them offering docks/keyboards that turn them into hybrid devices. Even the hybrids are more of a "tablet first" mentality, with fully detachable tablet portions rather than using a slider or 360 degree hinge. With eight new devices plus accessories to cover let's just get straight to the products.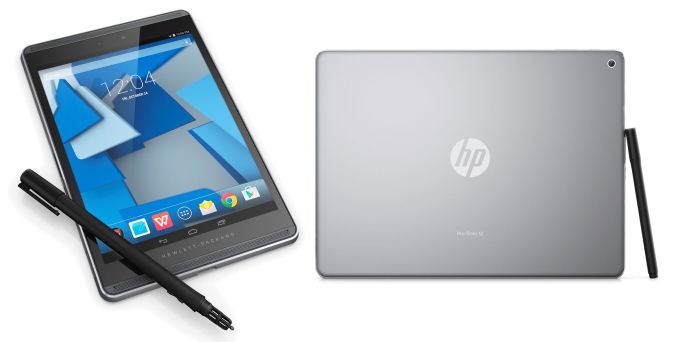 First up we have the HP Pro Slate 8 and HP Pro Slate 12, 8-inch and 12-inch Android 4.4 tablets with Snapdragon 800 SoCs (2.3GHz quad-core Krait 400) and 4:3 aspect ratio displays. The two new Pro Slates also include the HP Duet Pen, the first stylus to use Qualcomm's Snapdragon digital pen technology. The "Duet" part comes from the stylus supporting a stylus tip on one end and a traditional ink tip on the other; you can use the ink tip with the optional HP Paper Folio (coming in the spring) to digitize drawings and other content apparently. Both tablets also support ARM TrustZone, with 256-bit hardware acceleration and are FIPS 140-2 certified for DAR and VPN encryption.
The HP Pro Slate 8 is also one of the first tablets to utilize the new Corning Gorilla Glass 4, and it has a 7.9" 2048x1536 QXGA display. Other features include 2GB LPDDR3-800 RAM, 16GB or 32GB eMMC storage, 802.11ac WiFi with Bluetooth 4.0 + LE, and NFC. It has a micro SD slot, nano-SIM support, micro USB 2.0 port, 3.5mm headset hack, and front-facing stereo speakers. Dimensions are 137mm x 207mm x 8mm with a weight of 350g. It includes a 21WHr battery, though no specific battery life figure is given (just "long battery life"). It has a starting price of $449.
The HP Pro Slate 12 features nearly identical specifications, with the primary difference being the 12.3" 1600x1200 display. Camera options again consist of 2MP FHD video capable front-facing and 8MP FHD video capable rear-facing. The dimensions of the Slate 12 are 300mm x 222mm x 8mm with a weight of 850g, and it includes a 37WHr battery. Pricing starts at $569 for the Pro Slate 12.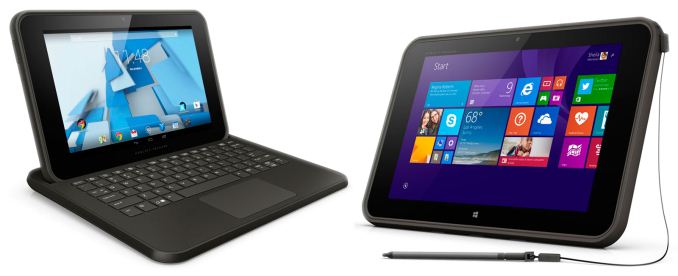 For the education sector, HP also has the HP Pro Tablet 10 EE G1 (Education Edition) and HP Pro Slate 10 EE G1, which pass IP-52 testing for dust and moisture and come with Intel's Bay Trail Atom Z3735G or Z3735F (up to 1.83GHz quad-core) SoCs. The main difference between the two parts is that Z3735F supports 2GB dual-channel memory while Z3735G supports 1GB single-channel memory. Both devices appear to use the same core design, with the Pro Slate 10 EE G1 coming with Android 4.4 while the Pro Tablet 10 EE G1 comes with Windows 8.1. The display is a 10.1" 1280x800 IPS panel, so nothing special there.
Features include 2x2 802.n WiFi with BT 4.0 + LE, micro SD, 3.5mm headset, micro USB, micro HDMI, 1.2MP front-facing and 2MP rear-facing or 2MP front-facing and 5MP rear-facing cameras, and a 28.5WHr battery. GPS is also supported. There are several optional accessories, including a stylus, keyboard, tablet sleeve, and multi-tablet charging station. The devices measure 280mm x 182mm x 14.4mm and weigh 855g, so these are definitely bulkier – and presumably more durable in order to withstand the rigors of students – devices. Oddly, the Pro Tablet model is listed as 850g – I'm not sure why it would weigh 5g less as Windows tends to be a heavier OS [hooray for nerd humor], but maybe there's some minor difference I'm missing. Both devices are available now, with the Pro Slate 10 EE G1 starting at $279 and the Pro Tablet 10 EE starting at $299 for education and $349 for all other customers – though it does include a 1-year subscription to Office 365 personal.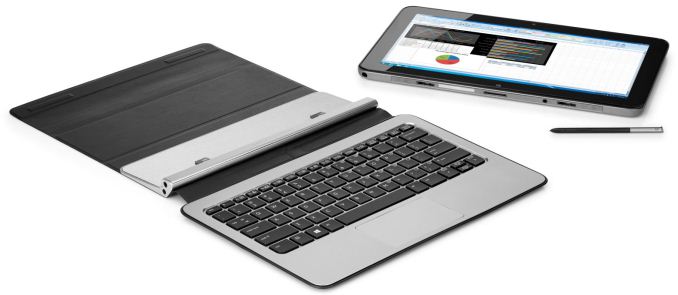 The Elite x2 1011 G1 is next, a hybrid device with Core M processor support (Core M-5Y71, 5Y51, or 5Y10c, depending on the configuration). This is an 11.6" device with either a 1920x1080 IPS display or a 1366x768 IPS display. It runs Windows 8.1 (Windows 7 Professional is also an option, as it FreeDOS 2.0) and comes with either 4GB or 8GB memory and SSD support from 128GB up to 512GB M.2 (or 180GB to 256GB M.2 SE). Along with optional mobile broadband, the Elite x2 1011 G1 includes either Intel AC 7265 (2x2 802.11ac WiFi with BT4.0+LE), AN-7265 (2x2 802.11n + BT4.0), or Intel TriBand AC-17265 (2x2 802.11ac + BT4.0 with WiGig). The tablet contains a micro SD slot and micro-SIM slot and a headset connector, and the 4.5mm AC power connection.
The tablet is sold on its own, while a power keyboard and travel keyboard are optional extras. The power keyboard adds DisplayPort 1.2, 2 x USB 3.0 (one with charging), another 3.5mm headphone/microphone port, and another 4.5mm AC adapter port. There's also an optional Wacom stylus. Other features include 2MB front- and 5MP rear-facing cameras, TPM 1.2/2.0, fingerprint reader (power keyboard), smart card reader (power keyboard), and various other security features from HP.
The tablet has a 2-cell 33WHr battery while the power keyboard has 6-cell (that may be a typo) 21WHr battery. Dimensions of the tablet portion are 298mm x 193mm x 10.7 mm and 870g; adding the power keyboard results in dimensions of 298mm x 204mm x 20.8mm. The power keyboard weighs 780g and the travel keyboard (no battery) weighs 530g. Pricing for the tablet starts at $899 with availability expected this month; there's no word on the pricing for the power or travel keyboards.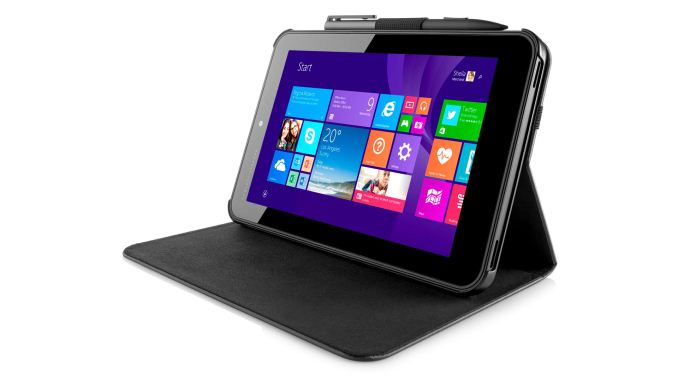 HP's Pro Tablet 408 G1 goes after the affordable market, with a starting price of $299. It's an 8" 1280x800 tablet with Intel Atom Z3736F (quad-core up to 2.16GHz) and 2GB RAM, with 32GB or 64GB eMMC storage. The base model has Windows 8.1 with Bing, which is part of the low price, while Windows 8.1 Pro 32-bit is also an option. I've actually poked around at a different quad-core Bay Trail tablet at CES, and the SoC appears reasonably fast (for Atom and low-power SoCs), and coupled with the 1-year Office 365 subscription it's a reasonable bundle. Other features include micro SDXC (up to 128GB), micro-B USB 2.0, 3.5mm headset, 2MP front and 8MB rear-facing cameras, GPS/AGPS, and 802.11n + BT4.0 LE. The Pro Tablet 408 G1 measures 215mm x 140mm x 9mm and weighs 375g. It's available now.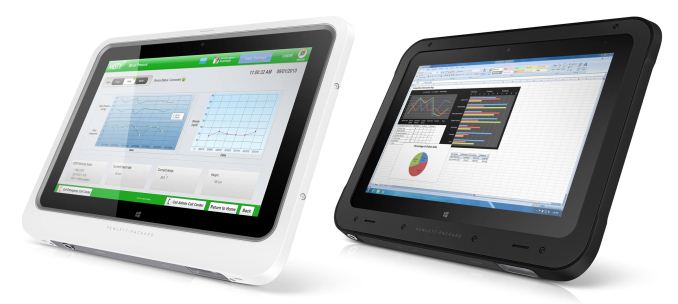 Wrapping things up, HP has the ElitePad 1000 G2 in Healthcare and Rugged versions. (Did anyone else see dollar signs just flash in front of them?) The core tablet appears the same but the chassis is slightly different; the Healthcare version comes with a an antimicrobial treatment and meets IP54 standards while the Rugged version is rated for IP65 and MIL-STD 810 and includes a protective jacket that also doubles the battery capacity. The tablet in either case features an Atom Z3785 (quad-core up to 2.39GHz) processor, 4GB RAM, 128GB eMMC storage, and a 10.1" 1920x1200 display with digitizer. Other features include 802.11n + BT4.0, mobile broadband support, NFC, one HDMI port, two USB 3.0 ports, 2.1MP front- and 8MP rear-facing cameras, and plenty of security features (as you'd expect for anything designed to be used in the healthcare sector). There's an optional 2D barcode reader available as well.
The ElitePad 1000 G2 Healthcare and Rugged do have a few differences other than appearance. The Healthcare model has two digital microphones and a pen clip connection while the Rugged adds an RJ-45 and serial ports but apparently skips the built-in microphones. The standard battery is a 2-cell 30WHr and the Rugged as noted earlier doubles capacity with a second 30WHr battery in the jacket. The Rugged measures 285.5mm x 215mm x 33mm and weighs 1450g while the Healthcare is 278mm x 207.5mm x 20mm and weighs 1100g. Pricing of the Healthcare model starts at $1499 and it's available now while the Rugged should start shipping next month with a starting price of $1599.
HP also mentions the availability of their $199 Retail Case of ElitePad, which adds two built-in cradles for mounting payment devices and the ability to dock to POS solutions. It also features hand and shoulder straps. The case is available now.
Source: HP