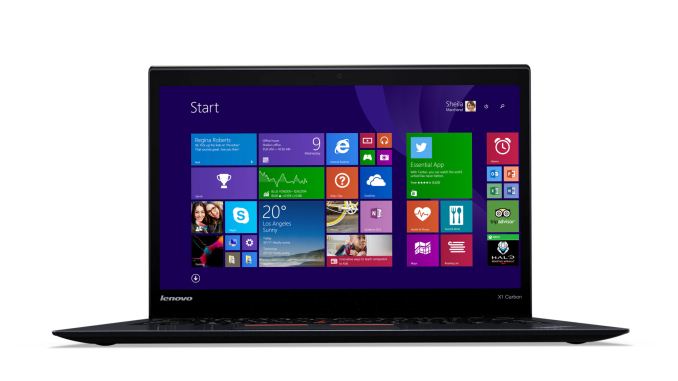 Lenovo has a whole slew of announcements coming out over the next few days, but let's start at the top with the updated X1 Carbon. The latest iteration upgrades the CPU to Intel's latest 5th Generation Core processors, with support for up to Core i7. This is the Broadwell-U line of CPUs, which means we can't disclose specifications just yet, but it should be comparable to the Haswell-U processors – we'd expect a 5-10% performance increase in most workloads. Lenovo also rates the latest X1 Carbon at up to 10.9 hours of battery life with a 50Wh battery, compared to the previous version's 8.6 hours.
Most of the remaining design elements are similar to last year's X1. The LCD is a 2560x1440 IPS touchscreen display (there may still be a lower resolution option), it ships with up to 8GB RAM, and the dimensions are the same 331mm x 226.5mm x 17.7mm (13.0" x 8.9" x 0.7") with a starting weight of 1.31kg (2.88 lbs). Storage has also received an update to M.2 PCIe with up to 512GB, and WiFi is again 2x2 802.11ac.
There's nothing particularly surprising with the update, but then there weren't any major issues with the old X1 Carbon. Battery life is better, performance is better, and storage is better; everything else basically stays the same. There are some differences in the keyboard and touchpad that warrant mention, however: dedicated function keys are back (the adaptive touch panel is gone), and the clickpad now has dedicated buttons above it once more (for use with the TrackPoint). Pricing and availability have not yet been announced, but the new model should take over from the previous generation when it launches.