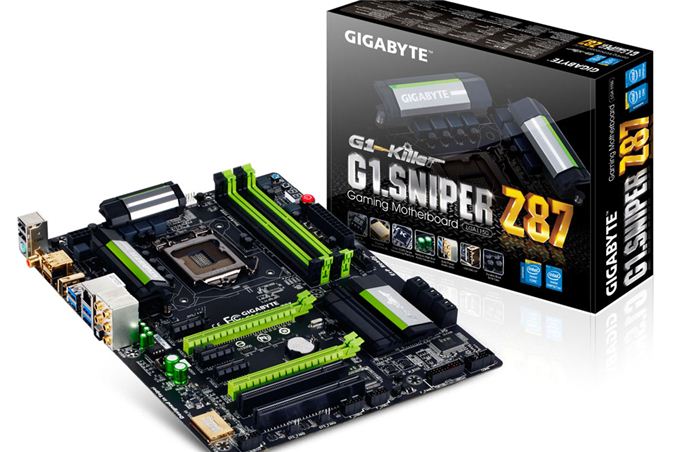 Astute followers of the Z87 motherboard market might start to notice a trend. For each generation we have had gaming focused motherboards, designed with hardware to lure gamers with improved audio, better network priority hardware and software, as well as a few extras in the box. With Z77 and Z87 launch, the high end models of these can feature combination air/water cooling, independent audio calibration and a focus of WiFi connectivity. There is also some overlap with extreme overclockers, and thus boards can be aimed at both markets simultaneously in order to reduce an overall number of SKUs.
At Z87 launch, very few models were aiming at gamers for the low-end. GIGABYTE for example has the G1.Sniper 5, a high end ($400) motherboard supporting removable OP-AMP technology and four-way graphics card support. For users wanting smaller systems, there is the G1.Sniper M5 which is a $205 micro-ATX alternative, or for non overclockers there is the B85 model. On the ASUS side the cheap gaming ATX is the Maximus VI Hero ($195) and ASRock offer the Z87 Professional from the Fatal1ty range.
Today GIGABYTE has launched a new G1.Sniper Z87 model, sans numeral, for the lower budget machine but still with overclocking support and SLI/Crossfire: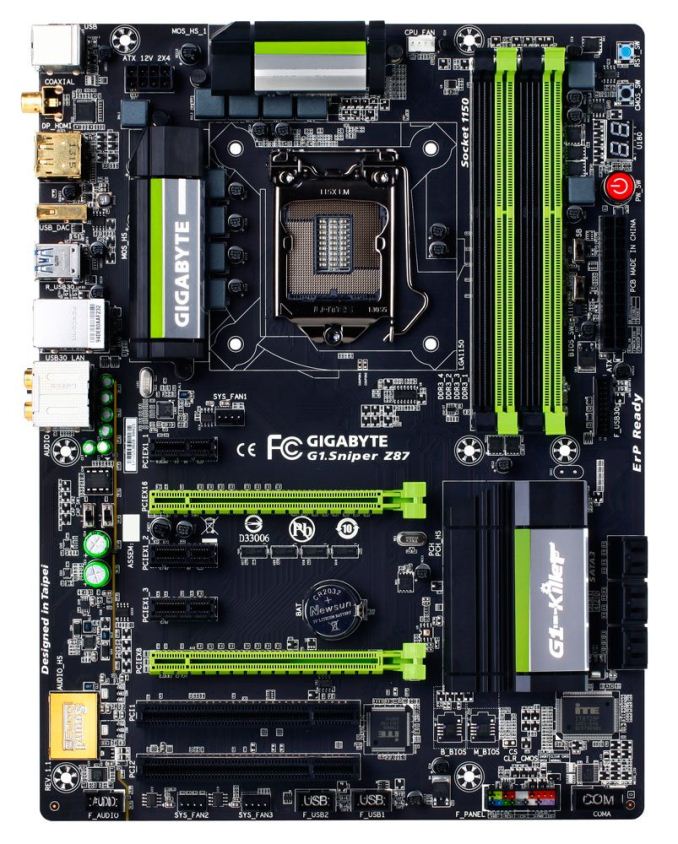 GIGABYTE's Z87 gaming range is all about the audio, so we get a Creative Sound Core3D audio codec paired with Nichicon Pro Audio Caps, an upgradable OP-AMP system, separation of digital and analog audio signals on the PCB to reduce crosstalk and interference, gold plated audio connectors and a specific USB DAC-UP port on the rear IO designed to provide a clean, low-noise power to any USB DAC:

Another feature is a direct gain switch in the audio, allowing users of high impedance headphones to choose between 2.5x and 6x amplification through the OP-AMP. To keep costs down, the motherboard uses the PCH for all SATA 6 Gbps and USB 3.0 ports, but the system does come with a Killer E2200 NIC to add to the gaming flavor.
I am being told that it will retail in the ~$170 range (still to be finalized, which puts it head to head with motherboards such as the ASRock Z87 Professional. MSI has two gaming motherboards within arm's reach as well, along with a number of non-gaming oriented motherboards. With any luck I am hoping to push out a round-up of several of these products in the near future. GIGABYTE say the G1.Sniper Z87 is on display at Blizzcon for attendees, and should be available soon after.