Budget Office/Productivity Builds
I covered the Intel Celeron G530's capabilities last year in a previous budget buyer's guide. Succinctly, it remains the best choice for those on a very tight budget, and apparently Intel is in no hurry to release an Ivy Bridge microarchitecture-based Celeron CPU (the cheapest retail 22nm Intel CPU right now is the quad-core i5-3470 at $195, which is obviously in a different market). I also reviewed the various LGA 1155 socket chipsets last year, and H61 remains the budget chipset choice. The G530 is more than capable of smoothly and quickly performing basic office tasks like word processing, emailing, and Facebooking. It also handles more strenuous tasks like 1080p content streaming with ease. Perhaps the best thing about a budget Sandy Bridge Celeron build is that in a few years, you'll be able to drop in a much more powerful CPU like an i5 or even i7-grade chip for not much money (assuming those depreciate in value like most other processors).
One consideration worth noting for an office build is physical space consumed by the case. Gone are the days of unwieldy, 20+ pound behemoths. Most businesses, whether they're in an office building or the spare bedroom of a residence, can use all the desk space they can get, or will at least appreciate not having legroom constricted by a big box under the desk. Therefore, we're recommending a long-time favorite that is a relatively small mATX tower as well as a newer iteration of an ITX solution.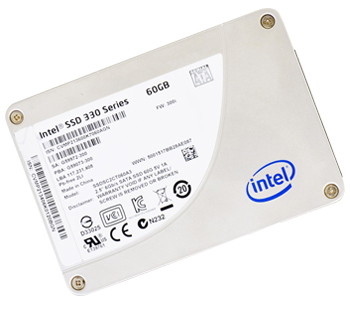 As mentioned on the first page, SSDs have dramatically decreased in price in the last year. While mechanical HDD prices have also decreased from their flooding-induced highs, they remain more expensive than they were pre-flood. This has created a situation where lower capacity SSDs are less expensive than smaller HDDs. That is, you can find SSDs for less than $50, especially if you're willing to fill out rebates, but it's difficult to find new HDDs for less than $50. Sadly many of the now cheap SSDs are not well-known for their reliability, and productivity machines need to be reliable. It's up to you whether you want to spend more on a drive with a stellar reputation for reliability, but those are what we're recommending here.
Anand recently reviewed the Intel 330 series SSDs, which carries on the tradition of Intel SSDs: not necessarily the fastest, but among the most reliable. The new 60GB model, however, is unlike most previous Intel SSDs in that it is among the cheapest of comparable models. Crucial's M4 64GB SSD also has a reputation for solid reliability. You can see in Anand's review of the 330 Series how these two different SSD models compare, performance-wise. The important thing to keep in mind is that Windows 7, Microsoft Office 2010, and a handful of other (smaller) applications can fit on an SSD as small as 40GB. A 60GB/64GB SSD is more than enough space for a lot of productivity applications and office documents. Of course, once you start adding media files, that space will disappear in a hurry, so make sure you have an idea of how much local storage you'll need before omitting a higher-capacity HDD.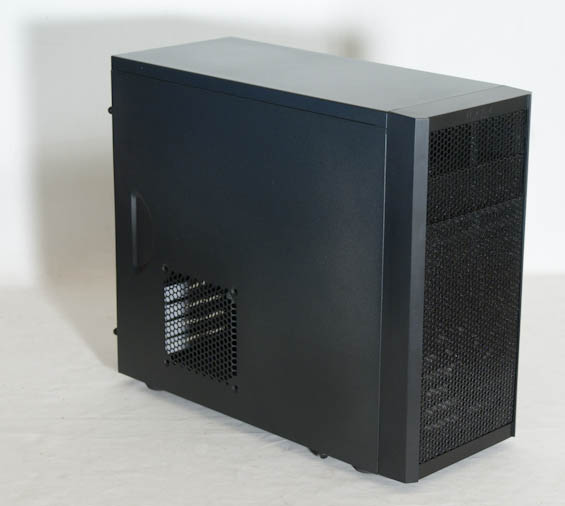 For the cases, we're recommending an old favorite (Fractal Design's Core 1000) and a new small form factor that Dustin recently reviewed: the Cooler Master Elite 140. The Core 1000 is relatively small for a tower, has great thermals and acoustics, is well-built for such an inexpensive case (no finger-slicing sharp edges!), and is light—which makes moving it around in an office environment easier. The Elite 140 has an even smaller footprint, but is limited to ITX motherboards which is an issue if you need to install expansion cards. You can use regular, full-size optical drives, hard drives, and power supplies, though.
As you likely know, Windows 7 comes in a few different flavors which are compared on Microsoft's page and more thoroughly on Wikipedia. You'll need to decide whether you want or need more than Home Premium offers, but for the sake of this guide, we're including the less expensive Home Premium because it is typically sufficient for small/home offices.
Rounding out the builds we have the venerable Antec Earthwatts 380W, a budget-friendly, well-built, quiet, 80 Plus Bronze certified power supply. I've had excellent experiences with the Biostar H61MGC and Intel BOXDH61DLB3 motherboards; both are inexpensive and reliable boards. The Intel board offers USB 3.0, a nicety not always found on H61 chipset-based boards.
Mainstream (i.e. non-overclocking) RAM is mostly interchangeable these days, with companies competing mostly on price and customer service. The Corsair and Kingston modules here should serve you well, but look for good prices on other reputable manufacturers like G.Skill, Crucial, Mushkin, ADATA, Samsung, and others—and don't forget to pay attention to the specified voltage level and CAS latency; all other aspects being equal, lower is better. We've listed 1x4GB for all of the budget builds today, since all of the motherboards are limited to two DIMMs. Personally, I'd spend the $20 or so to go straight to 2x4GB, but then I'd also be more likely to spend up on most system components. If you do find you need more RAM (or you really feel the need for a dual-channel configuration), switching to two DIMMs is a simple change to make.
As for hard drives, as mentioned previously in this article, though the floodwaters in Thailand have receded, their prices remain high. Even worse, with Seagate's acquisition of Samsung's hard drive business and Western Digital's acquisition of Hitachi's hard drive arm, we're left with only two mainstream drive manufacturers. Perhaps unsurprisingly, both Seagate and Western Digital have lowered the length of warranties on their mainstream drives: down to two years for Western Digital and one year for Seagate. Because of this, I see no reason to recommend Seagate's mainstream hard drives at all over comparable Western Digitals unless the Seagate model is substantially cheaper. We're recommending a small 250GB drive here simply because it is cheap. Keep an eye out for sales on larger drives: $60 500GB drives are popping up on sale here and there occasionally, and $70 will often nab a 1TB drive.
Intel Celeron G530 minitower system
Intel Celeron G530 ITX system
Outlets
It's worth noting that for a basic productivity machine, the Windows 7 license by itself accounts for a large percentage of the build's total cost. This is a nearly unavoidable cost for system builders (the only way to legally avoid it is to use a free OS like Ubuntu Linux that can work in certain productivity scenarios but is not mainstream). However, larger system manufacturers like Dell and Lenovo get Windows 7 licenses for far less than end users can, and sometimes their returned, refurbished, and scratch & dent systems in their outlets can be purchased for less than the two systems above, and modified accordingly—especially if you're willing to sell the parts you replace on the used market like our own For Sale subforum. You can also always ask for advice on our General Hardware subforum. Dell's outlet for home systems is here and their outlet for businesses is here; Lenovo has their outlet here.
If you're looking to do more than just type papers and create Powerpoint presentations—like kick back with some friends and shoot some zombies—check the next page for budget gaming systems.