Meet the Radeon HD 7750
We'll kick things off as always with a look at the cards themselves, starting with the Radeon HD 7750. As we alluded to before, this is the de-facto replacement for the Radeon HD 6670, and you only have to take one look at the card to understand why.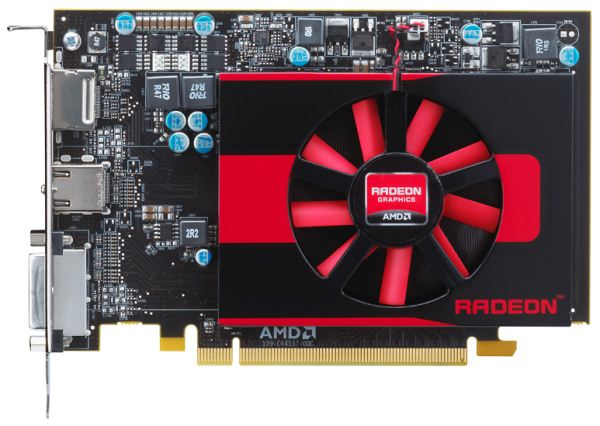 AMD's reference design for the 7750 is virtually identical to the full-profile 6670 or the FirePro V4900, which should come as no surprise given that all of these cards are or were AMD's top sub-75W cards in their respective markets. As a result, like those cards the reference 7750 is a full-profile card featuring a single-wide active cooler.
As the 7750 is AMD's cheapest Southern Islands card, you won't find much else on the card to speak of. As a sub-75W card it doesn't need external power, and cementing its position as the replacement for the 6670 there isn't a CrossFire connector on the card. For RAM the card uses 4 256MB Hynix GDDR5 RAM chips, which are rated for 5GHz. The card is 6.57" long overall, the same length as the 6670.

Meanwhile for display connectivity, AMD is once again using the same configuration as we've seen in their other full-profile mainstream cards. This means 1 DL-DVI port, 1 HDMI port, and interestingly enough 1 full size DisplayPort. The latter is particularly odd, as the rest of the Southern Islands lineup is exclusively miniDP and in the last year miniDP has become the de-facto port for source devices. AMD has told us that there's no specific reason that they're using a full size DisplayPort here, and we believe it's largely being done out of maintaining consistency with previous products. With that said we'd rather see miniDP here – even if it's just 1 port instead of 2 – so that it's consistent with the rest of the 7000 series.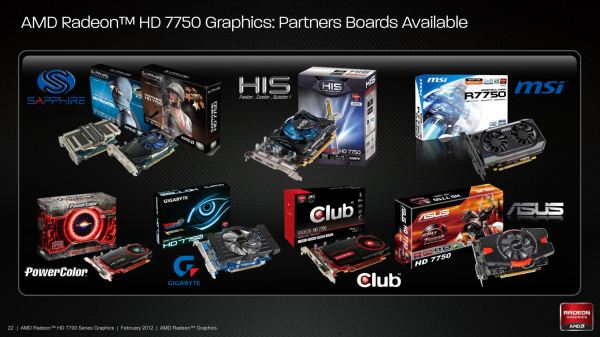 Finally, as is customary for a midrange product launch, everyone is doing semi-custom cards right off the bat. Everyone will be using AMD's PCB for now, while none of the 7750 cards in the press materials sent to us will be using AMD's cooler. Instead we'll see a range of designs, from similar side-wide designs to the more common double-wide designs, and even a passively cooled design from Sapphire. Much like the 6670 the HTPC use case for the 7750 is rather obvious, so we suspect that we'll see more passive and perhaps even some low-profile cards in the future.