Irrespective of the technical capabilities of the products based on the two standards, it is essential that the adopted standard not disrupt existing installations of products based on other standards. This is especially important for MDUs (Multiple Dwelling Units), where the power lines are shared across multiple residences. One would definitely not want a G.hn device to mess up the operation of a HomePlug device. Considering that HomePlug already has an installed base, and there is no G.hn silicon with consumers yet, we believe that G.hn vendors must ensure that they peacefully coexist with them when it comes to the retail market. The G.9972 component of the standard specifies a coexistence mechanism for G.hn devices.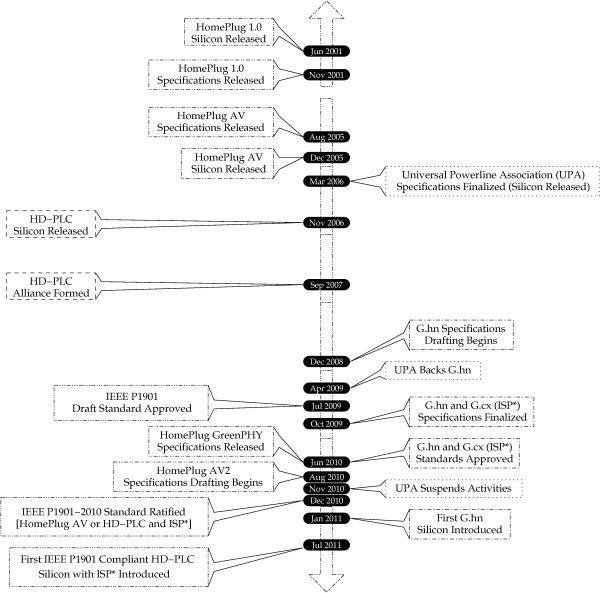 IEEE P1901 specifies a mandatory ISP (indicated with a star in the above timeline). This Inter-System-Protocol (also termed as Inter-Specification-Protocol in some documents) ensures that a IEEE P1901 device can coexist (with just loss in throughput) with a G.hn device. One must note that the G.hn device must also support the ISP (specified as G.cx). The chipset introduced by Marvell supports G.cx and it should be able to co-exist with IEEE P1901 devices implementing the ISP segment of the specification. In July 2011, Kawasaki Microelectronics (part of the HD-PLC alliance) introduced silicon compliant with IEEE P1901 and also implementing the ISP. Marvell indicated that the 88LX2142 could definitely coexist with such HD-PLC solutions. Note that coexistence implies absence of interference only. It doesn't mean that a UPA device can talk with a device based on G.hn silicon from Marvell.

In the above timeline, I have specifically refrained from indicating the availability of IEEE P1901 compliant HomePlug silicon (despite the fact that many chipsets such as the AR7400 from Qualcomm claim to be IEEE P1901 compliant). We have not found any documentation pointing to the existence of the mandatory ISP in it. (The AR7400 does support IPP (Inter-PHY-Protocol) which, at first glance, seems to enable them to co-exist with HD-PLC silicon). Note that the existence of ISP can be proved when it interoperates with a G.hn device, and G.hn devices are currently not in the market. Unless an interoperability / coexistence fest is organized with both IEEE 1901 silicon and G.hn silicon, this can't be completely proved or disproved.