Samsung Wave 3: More Than A Sideshow
Admittedly, they didn't spend a lot of time talking about their newest flagship Bada phone; but Samsung was unequivocal in their intention to make Bada a serious smartphone OS. Having recently announced Bada 2.0, the Wave 3 serves as a showcase for the operating systems strengths and announced an effort to drive developers towards their platform. Previously Bada was targeted primarily at replacing the operating sytems on the company's lineup of feature phones, and lofty targets have been the norm, as have the failure to meet them (they previously announced expectations to have 7,000 apps on the platform by the end of 2010, and have not yet reached that mark). So, how much of their talk was just home team grandstanding? It's unclear, but we welcome them to do their best in this competitive market.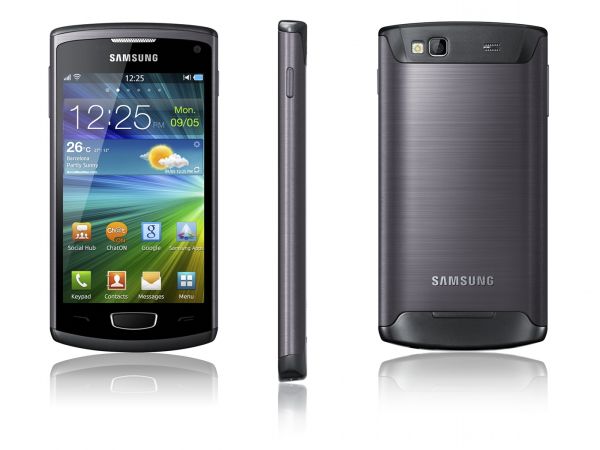 As for the Wave 3, the 4" Super AMOLED WVGA display comes encased in a brushed aluminum unibody frame and is certainly no slouch in looks. A single core 1.4 GHz processor powers the phone, giving it plenty of power, and TouchWiz is of course lovingly layered atop the base Bada platform. TouchWiz for Android users will recognize the Social Hub and Music Hub apps, and Samsung touts the platforms multitasking abilities. This will likely all be lost on the US, a quick search showed not a single major carrier listing Bada phones amongst their offerings.
Wrap-Up
Samsung's keynote highlighted the extent to which they have their fingers in nearly every segment of the consumer electronics market. In addition to phones and tablets, Samsung introduced a new television and talked up their Smart TV initiative, a pair of new cameras and the Series 7 laptops that we covered earlier. In each product category they have shown themselves able to provide high quality products and we can't wait to get our hands on them. Unfortunately, waiting is very likely a big part of what we'll be doing. The Galaxy S II was introduced in February, and six months on it's not yet for sale here. So, big stuff is coming our way from Samsung, it just remains to be seen when. Stay tuned throughout the week for further IFA coverage.