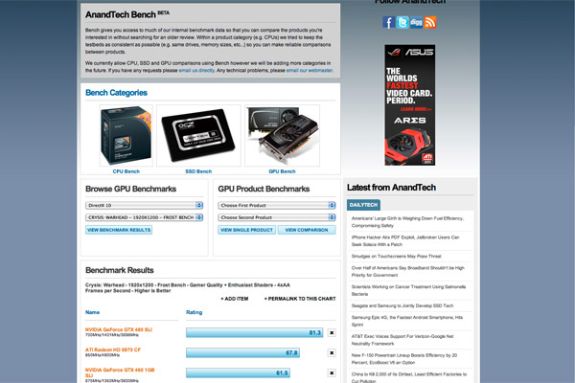 One day I got the bright idea to benchmark the living crap out of everything I could find. What resulted was a huge Excel sheet of CPU performance results. Then Intel released the X25-M and I realized that I would have much more repeatable and reliable numbers if I used SSDs (don't have to worry about defragging between runs), at which point I re-ran everything in the Excel sheet.
To make a long story short, we launched a feature called Bench. It's a comparison tool that lets you pit products against one another using our own internal test results. If you want to find out whether the Core i5 750 will be a significant upgrade from your Core 2 Quad Q6600 you can head over to Bench and find out. We have over 100 CPUs in Bench today across over 20 benchmarks. CPUs are being added all the time as they come out and we're constantly evaluating new benchmarks to introduce as well.
When I'm not testing CPUs, working with Brian on smartphones or playing with Mac gear, I'm knee deep in SSDs. I've been itching to write a follow-on to the SSD Relapse, however not enough has changed just yet. Plus with all that's happening in the other segments I cover directly, it's easier for me to focus on shorter SSD articles. Adding SSD performance data to Bench was an obvious next step, which I made not too long ago.
You all have been asking for three things when it comes to Bench fairly consistently. You want the ability to have all benchmarks sorted the same way (e.g. higher is better), the ability to compare more than two products and you want a GPU version of Bench. Today I'm happy to announce that the first version of GPU Bench is live.
We've tweaked the landing page for Bench a bit to let you access CPU, SSD and GPU Bench data even easier. As is the case with CPU and SSD Bench, as new cards get released we'll be expanding the GPU Bench database to include them. At present we go back as far as the GeForce 8800 GT and Radeon HD 3870 (at 1680 x 1050).
I hope you enjoy the addition and expect more Bench features to surface as the year goes on. As always, thanks for reading :)