Sub-$400 Laptops
At the bottom of the price spectrum we have laptops that cost under $400. The vast majority of these laptops are going to be netbooks, typically a laptop that's under 12" for the LCD. We're not particularly concerned with that classification, though. Laptop, netbook, or notebook: it doesn't really matter to us. What matters are the features you can get, so let's look at the $400 or less offerings.
Intel Atom Laptops
If you're buying a new laptop for under $400 - and especially if it's $300 or less - you're likely getting something with an Intel Atom processor. That's not necessarily a bad thing, but you should be fully aware of what you're getting. The fastest Atom laptop CPU, the N280, runs at 1.66GHz and offers about the same level of performance as a 1.2GHz Pentium M. Considering 1.2GHz Pentium M laptops were state-of-the-art about seven years ago, we're obviously not looking at lightning fast performance. The difference is that an Atom CPU consumes far less power than any Pentium M; in our testing, the "worst" Atom-based netbook still managed to provide over 5 hours of battery life in typical tasks (with a 6-cell battery), and over 3 hours even for demanding tasks like HD video playback. Netbooks like the ASUS 1005HA can last up to 10 hours on a single charge, making the promise of "all-day" computing a reality.
Netbook options these days typically range from 9.1" chassis designs up to 11.6", with a few 12.1" options. We tend to prefer the larger netbooks simply because they offer a higher resolution LCD. 9.1" and 10.1" LCDs are mostly of the 1024x600 ilk, which can be frustrating with some applications. A few manufacturers have offered 1366x768 LCDs in 10.1" netbooks, but those can be difficult to find. In contrast, all of the 11.6" laptops we've looked at run at 1366x768, which is a good balance of size and resolution, and the 12.1" designs usually have a 1280x800 display.
You will be hard-pressed to find a laptop with more than 2GB for under $400, and Atom-based netbooks typically support a maximum of 2GB RAM (via a single SO-DIMM slot). We recommend getting 2GB if at all possible from the start; with netbooks only supporting a single DIMM, if you upgrade later from 1GB to 2GB, you end up with an extra, "useless" SO-DIMM. A few netbooks include 1GB of RAM soldered onto the motherboard, in which case you can get up to 3GB, but with no 64-bit support there's not much incentive to move beyond 2GB right now.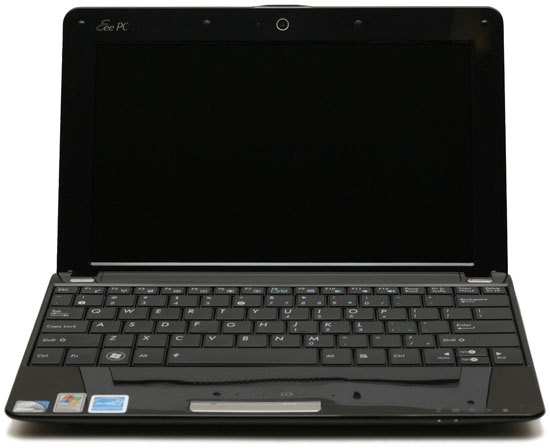 What would we recommend out of the sub-$400 Atom laptops? One laptop we've tested extensively is the ASUS 1005HA, and it's the best of the Atom netbooks we've used. The overall design and features are pretty typical, but battery life was better than the competition and more importantly, the 1005HA LCD delivered a stellar contrast ratio above 1000:1. It makes a huge difference in the way movies and pictures look, and considering the 1005HA doesn't cost much more than competing options, it's an easy recommendation. There's even a matte LCD version of the 1005HA (the 1005HA-VU1X-WT or 1005HA-VU1X-BK), which is awesome to see (but the casing and bezel are still glossy). So glossy or matte: you get to decide. You can also choose between Windows XP and Win7 Starter, but we'd stick with XP or plan on getting 2GB RAM and running Win7 Home Premium - Starter is a bit too limited for our tastes. It's a shame we haven't been able to find any 10.1" 1366x768 LCDs that offer a similar contrast ratio, as that's the only item on our 1005HA wish list.
There's at least one competing alternative to Atom right now, the VIA Nano, but the only netbook with Nano is the Samsung NC20, which costs over $500. We'll pass on that; performance of Nano appears to be a bit better than Atom, but for the price there are many other options. Also worth noting is that even the smallest SSDs that are worth having cost over $100, so you won't find any good SSDs in this price range. We definitely wouldn't bother with upgrading an Atom laptop to an SSD either - if the increase in performance such an upgrade brings is important, we recommend starting with a CULV laptop instead. That brings us to the other $400 alternatives.