Intel Entry-level PC
Intel still owns the pole position in CPU performance, but the area from entry to upper midrange is very competitive between Intel and AMD. In fact, as pointed out in the recent Phenom II Buyers' Guide, AMD is often the better value in the broad midrange category. The only area still dominated by Intel is the very top, where CPUs cost $280 and more.
The one advantage that remains for Intel is that their processors generally overclock better than current AMD CPUs. That has changed with Phenom II in the midrange, but most of today's entry AMD processors still use older designs that do not overclock as well as Intel choices. Overclocking is not normally a consideration in entry computers, but it could be for some buyers, and at the lowest rungs of the CPU ladder Intel processors remain the best overclockers for now.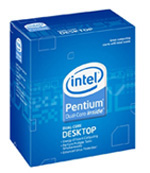 Our choice for the Intel entry CPU remains the excellent 2.5GHz dual-core E5200 Wolfdale. This 65W rated CPU is built on Intel's 45nm manufacturing that begs you to overclock. The E5200 uses a default 800FSB, so right out of the box the first option for overclocking, if you are so inclined, is to bump it up to 1066 bus. That will give you a 33% overclock and a final speed of 3.33GHz, and it is readily attainable with proper cooling. Even if you never overclock you will be very pleased with the performance of the E5200.
The E5200 is an easier choice now that the price has dropped from $83 a few months ago to $70 today. We do not recommend going lower than an E5200 in an Intel system because the trade-offs in performance for the few dollars saved are too great. The performance of the E1200 at $50, for example, is dismal compared to the E5200, and certainly not a good choice in performance for the $20 saved. The only drawback to this processor choice is the lack of Intel's Virtualization Technology (Intel VT). If running the Windows Virtual PC under Windows 7 for XP Mode (as one example) is important to you, then moving up to the E8x00 range or down to the E6x00 allow the best VT options in this range, although this budget point is no longer valid.
Unlike the numerous AMD product choices in the $60~$80 price range that feature current chipsets and loads of features, the Intel selections are mostly limited to older chipsets like the G31 or NVIDIA GeForce 7100 series. These chipsets are stable, well supported, and are valid options for basic entry-level systems. Intel is promoting the G41 chipset into this price range now and we seriously considered a couple of very good G41 boards, but they featured VGA output or the storage options were limited due to the ICH7 for the type of system we had in mind. Fortunately, ASUS came through with some timely price reductions on their G43 based ASUS P5QPL-CM motherboard and it was an easy decision to choose this particular board for our budget based system.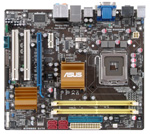 The P5QL-CM features the latest G43 GMCH along with the ICH10 Southbridge. The GMA X4500 graphics engine does not feature the hardware accelerated H.264/VC-1/MPEG2 decoding capability of the G45 or NVIDIA GeForce 9300 chipsets, but HD video playback is acceptable with a decent processor like the E5200. Otherwise, the performance of the G43 is fine for SOHO applications, flash-based games, and general video duties. However, insert a discrete video card like the HD 4770 and any weaknesses of the G43 chipset go away in an instant.
The P5QL-CM features support for the latest Core 2 Duo, Core 2 Quad, and Pentium/Celeron dual-core processors along with 8GB memory support. The board has a very good layout with one PCIe x16 slot, one PCIe x1 slot, and two PCI slots. The ICH10 does not support RAID but does provide six SATA 3Gb/s ports, one IDE port, and twelve USB 2.0 ports. ASUS includes the 8-channel VT1708B HD audio codec, Realtek RTL8111B Gigabit LAN, and DisplayPort, DVI-D, and VGA video out ports. ASUS based this motherboard on the uATX form factor and it includes a basic accessory kit along with several ASUS specific software applications. The board has proven to be very stable and problem free over the last 30 days. It is not an overclocking demon with our E5200/E7200 being limited to the 345FSB range due to the chipset, but that is more than enough headroom (4.16GHz with the E5200) for most users.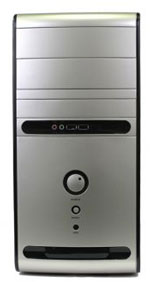 The case and power supply choice are the same Sigma La Vie 500W Mid Tower chosen for the AMD entry system. At a final price of $45 for this good-looking, side-window case and Sigma 500W power supply it is a value that is hard to pass up. If you prefer a smaller Micro ATX case, the HEC 6K28BSOH48D mini tower is a good alternative. HEC is best known as a manufacturer of power supplies. Some are sold under their own name, but most are manufactured for other well known power supply brands. HEC includes a 485W PSU with this attractive mini tower, which should provide plenty of power for your entry build.
Other components are the same ones chosen for the AMD Entry system. Some readers will also notice that our link for the Windows Vista Home Premium System Builders OS is for the 64-bit version. Whether you choose 64-bit or 32-bit, the price of Vista is the same. The choice is yours, but you will need the 64-bit version to fully use the 4GB or more system memory. While 64-bit has made giant strides in drive and component compatibility, if you have an old printer or other peripherals you want to bring from Windows XP to Vista you need to check compatibility very carefully. 32-bit Vista generally works with almost anything that worked with Windows XP, but that is not always true of 64-bit. If you are starting fresh, we recommend choosing 64-bit Vista.
If we compare the two entry-level systems, the winner depends on what is of more value to you. The Intel system is a bit more powerful, but you can move up to a high-end Athlon X2 or a low-end AMD Phenom II X3 for comparable performance at less than $85. If you are an overclocker, the Intel entry may be your best choice. For a gamer, the AMD offers more flexibility for future expansion. For the typical entry-level PC right now and for what the system typically is used for - internet, office, low-end gaming, and low to mid graphics - you can go either route and be very happy.