We have been testing numerous DDR3 kits over the past few weeks in a multitude and the one true surprise out of the group is the Kingston HyperX 6GB DDR3-2000 (KHX16000D3ULT1K3/6GX) kit. This is not a surprise from a performance viewpoint as most applications show little differences in performance moving from DDR3-1333 to DDR3-2000 on the i7 platform. I should quantify that statement as benchmarking programs ranging from SuperPI to Aquamark will show measurable differences in performance. For users wanting the latest, fastest, and best performing DDR3 for benchmarking or padding their system specs, then the DDR3-2000 kit are worth the price of admission. However, most users creating an MP3 file, playing a game, or touching up a photo are unlikely to see any real improvement in performance to justify the delta in pricing when moving from a $78 DDR3-1333 6GB to a $440 DDR3-2000 6GB kit.
The surprise delivered to us is the fact that these particular Kingston kits utilize the Elpida "Hyper" 50nm ICs. That in of itself is not newsworthy as most low latency DDR3-1866/2000 kits utilize this particular IC (we should see Samsung's 50nm IC shortly). The surprise is the price delta between these kits and those from OCZ, Corsair, and GSkill. I have been wanting to mention these kits for the past few weeks but every time I would get ready to write about them, the stock levels at Newegg would drop to zero without a commitment on replenishment or if the price of $245.99 would hold true. Finally, Newegg has decent stock levels and the pricing remains at $245.99.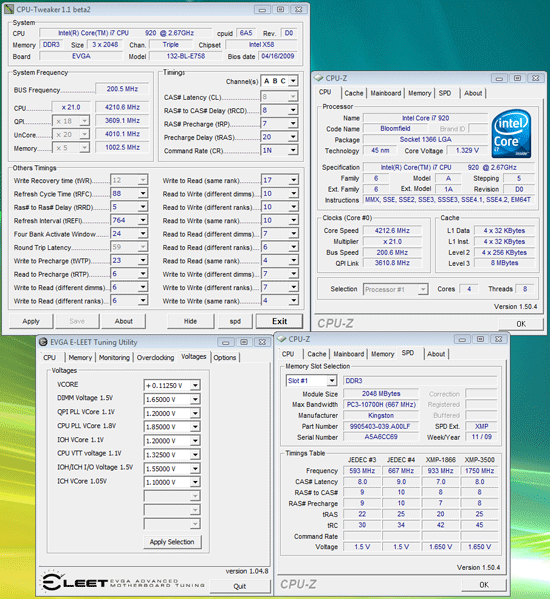 Our experiences with the Kingston kits have been excellent. We are topping out around 2080MHz at 8-8-8-24 1T (1.68V VDimm, 1.375V VTT) on our EVGA X58 SLI and DFI UT X58-T3eH8 boards. We could up voltages and increase clock speeds with higher timings, but for our purposes the fact that these modules run at DDR3-2000 7-8-7-20 1T (1.65V VDimm, 1.35V VTT) or 8-8-7-20 1T (1.65V VDimm, 1.325V VTT) satisfies our needs. Our competing Corsair Dominator GT kit offers three different cooling solutions, higher clock speeds (DDR3-2110, 7-8-7-20 1T), and an excellent support forum for the additional cost. In reality, the Corsair Kits cater to a different class of enthusiasts as do the latest OCZ Blade and GSkill Perfect Storm low latency kits. For the rest of us who want DDR3-2000 speeds without busting the bank, the Kingston's are an excellent choice.
The reason I was adamant about choosing video cards with the free shipping promotion is that I was also ordering a 5.1 speaker setup for the daughter's room. I have always had good experiences with Polk Audio products and have owned one model or another since the 70's. They typically provide very good audio performance for the money, especially in smaller rooms. I decided to see if Newegg had any specials and was just about floored at some of the pricing being offered on close out or product retirement items in the Polk Audio section.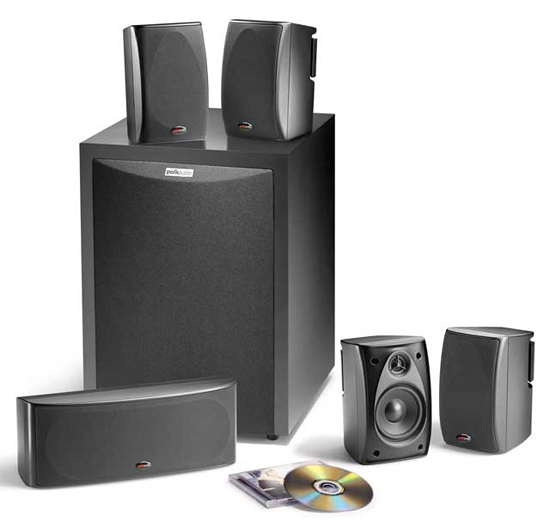 My first inclination was to purchase five of the VM10 Bookshelf speakers considering they are marked down from $349.99 each to $99.99 each with free shipping and a PSW10 subwoofer for $99.99. That would have been overkill for a bedroom but after having an excellent experience with the VM10s in our living room I seriously considered it. It would have been a stupid decision. I looked around a little more and thought about designing a system around the M10 or Monitor 30 speaker sets paired with a CSM or C1 center channel and the same PSW10 subwoofer. However, that still cost too much and I started thinking about a 5.1 system in a box.
Her needs are basic for the HT setup and we do not want the plaster coming off the walls either. Therefore, I ended up purchasing the RM6750 5.1 HT speaker system for $219.99 with free shipping. It fits our needs perfectly and has decent user/site reviews to boot. That ends this weekend's spending spree. I suppose that next weekend we can discuss the new dishwasher from Sears that just happened to consume the last of my garage sale proceeds.