Intel Entry-level PC
While Intel still owns the top in the CPU performance, the area from entry to upper midrange is very competitive between Intel and AMD. As pointed out in our Phenom II Guide, the only area still dominated by Intel is the very top, with CPUs at $300 and more. The one advantage that remains for Intel is that their processors generally overclock much better than current AMD CPUs, but that has changed with Phenom II in the midrange. This is not normally a consideration in entry computers, but it could be for some buyers, and at the lowest rungs of the CPU ladder Intel processors remain the best overclockers for now.
Intel Entry-level PC
Hardware
Component
Price
Processor
Intel Pentium Dual-Core E5200 Wolfdale
(2.5GHzx2 65W 2MB L2 800 FSB)
$73
Cooling
CPU Retail HSF
$-
Video
On-Board
$-
Motherboard
ECS GF7100PVT-MT NVIDIA GeForce 7100 HMDI
$60
Memory
G.Skill 4GB (2x2GB) DDR2-800
$37
Hard Drive
WD Caviar GP WD5000AACS 500GB
$59
Optical Drive
Samsung 22X DVDRW/DL SH-S223Q
$25
Audio
On-Board
$-
Case
HEC 6K28BSOH48D Micro ATX Mini Tower 485W Power Supply
$50
Power Supply
Included with Case
$-
Base System Total
$304
Display
Hanns-G HB-175APB Black 17" 8ms Widescreen LCD Monitor Built in Speakers - Retail (1440x900)
$99
Speakers
Built-in Monitor
$-
Input
Microsoft CA9-00001 Black PS/2 Standard Keyboard and Optical USB/PS2 Mouse - OEM
$16
Operating System
Microsoft Vista Home Premium OEM
$99
Complete System Bottom Line
$518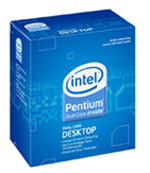 Our choice for the Intel entry CPU remains the excellent 2.5GHz dual-core E5200 Wolfdale. This 65W rated CPU is built on Intel's 45nm manufacturing that begs you to overclock. The E5200 is rated 800FSB, so right out of the box the first option for overclock, if you are inclined, is to bump it up to a 1066 bus. Even if you never overclock you will be very pleased with the performance of the E5200. The E5200 is an easier choice now that the price is $10 lower at $73 than it was just three months ago. We do not recommend going lower than an E5200 in an Intel system because the trade-offs in performance for the few dollars saved are too great. The E1200 at $50, for example, is dismal compared to the E5200, and certainly not a good choice in performance for the $23 saved.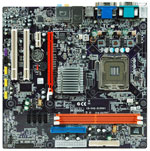 Unfortunately our favorite Zotac N73PV-Supreme board has been discontinued by Zotac. This was a real surprise considering how well the $60 board sold. The NVIDIA 7100 used in the Zotac is a good chipset choice for an entry Intel 775, so we have chosen the ECS GF7100PVT-MT at the same $60 for the entry Intel system. There is currently a $10 rebate that lowers the price to $50. The ECS provides HDMI output with a DVI to HDMI adapter. If you prefer a real HDMI output on the rear panel you can choose the Gigabyte GA-73PVM-S2H LGA at $69.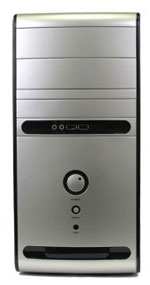 The case for the Intel entry system is the solid HEC 6K28BSOH48D Micro ATX mini-tower. HEC is best known as a manufacturer of power supplies. Some are sold under their name, but most are manufactured for other well known power supply brands. HEC includes a 485W PSU with this attractive mini-tower, which should provide plenty of power for your entry Intel build. If you prefer a mid-tower case HEC uses the same PSU in the $50 HEC 6C60BSOH48. You could also choose the Sigma La Vie Aluminum mid-tower featured in the AMD build on the previous page. The rest of the components are virtually identical to the AMD entry-level system.
If we compare the two entry-level systems, the winner depends on what is of value to you. The Intel system is a bit more powerful, but you can move up to a high-end Athlon 64 X2 or a low-end AMD Phenom X3 for comparable performance at less than $100. The full-size AMD ASRock board offers more flexibility for future graphics expansion, with two x16 PCI-E slots and CrossFire X support. If you are a gamer on a strict budget the AMD entry system offers you more for future graphics expansion. For the typical entry-level PC right now and for what the system is typically used for - internet, office, low-end gaming, and low to mid graphics - you can go either route and be very happy.