Core i7 Overclocking
One of the great attractions of the Intel Core i7 is its fantastic overclocking ability. As shown in Overclocking Core i7, the overclocking ability varies by CPU and the chip's onboard memory controller. Still, overclocks of the 2.66GHz 920 chip normally can reach 3.6GHz to 4.0GHz with air-cooling - and even higher with water- and phase-change-cooling.
As discussed in many overclocking articles here, there are normally two types of overclockers. First are those who overclock for value, which are those that select cheaper parts rated at lower specs for their ability to overclock to much higher performance levels. Second, there are overclockers who try to reach the highest overclock possible, and who usually choose the highest priced and higher-performance parts to overclock even further. This Core i7 Overclocking System leans toward the value side of the overclocking equation. Generally parts were selected, like the Core i7 920, because they are a good value that becomes an outstanding value when overclocked. Where an alternative exists that would be a better choice for the "absolute" overclocker it will be pointed out.
Intel Core i7 Overclocking PC
Hardware
Component
Price
Processor
Intel Core i7 920 Socket 1366
(2.66GHz Quad-core, 4x256KB L2, 8MB L3 Cache)
$295
Cooling
Thermalright Ultra-120 eXtreme-1366 RT
$75
Video
MSI R4870-T2D1G Radeon HD 4870 1GB
$205
Motherboard
DFI LP UT X58-T3eH8 X58 - Retail
$300
Memory
Kingston HyperX T1 3GB (3x1GB) DDR3-1866 (PC3-14900) Kit KHX14900D3T1K3/3GXR
$159
Hard Drive
Seagate Barracuda 7200.11 ST31000333AS 1TB
$105
Optical Drive
LG 6X BD-R 2X BD-RE 16X DVD+R 6X Blu-ray DVD-ROM SATA Blu-ray Burner GGW-H20LK
$190
Audio
On Board
-
Case
Antec Nine Hundred Black Steel ATX Mid Tower
$100
Power Supply
CORSAIR CMPSU-850TX 850W SLI Ready CrossFire Ready 80+ Certified
$130
Display
ASUS VW246H Black 24" 2ms (GTG) HDMI 1080P
$290
Speakers
Logitech G51 155W RMS 5.1 Speakers - Retail
$90
Keyboard
Logitech G11 USB Gaming Keyboard
$59
Mouse
Logitech MX518 8-Button/1 Wheel USB 1800dpi Laser Mouse
$40
Operating System
Microsoft Vista Home Premium OEM
$99
Bottom Line
 
$2137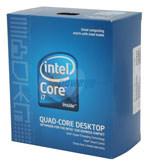 The i7 920 is the lowest priced Intel Core i7 you can currently buy. It is normally the choice for overclockers because it can reach as high as 4.0GHz with air-cooling if you are lucky enough to find one with a strong on-chip memory controller. Even those that don't reach the top normally make it to 3.6GHz without too much effort. That represents a huge performance boost for an entry-level part - even a high-end "entry" CPU.
In our look at overclocking in the Phenom II Launch review, the Core i7 920 reached as high as 3.8GHz at stock voltage and 4.0 GHz when overvolted to 1.35V. That is a 50% overclock. You start with a processor that is 30% faster in some tests compared to a Core 2 or Phenom II, and then you find you can also overclock this 2.66GHz CPU to 3.8GHz to 4GHz with careful tweaking and better cooling. You will certainly be very happy with Core i7 base performance, but in overclocking you will be ecstatic with this CPU.
The one drawback of the 920 is the locked 20X multiplier. Overclocking can only be achieved by increasing the "bus" speed (there really is no "bus speed" in the i7 design). The only Core i7 with an unlocked multiplier is the Core i7 965. That processor is an excellent choice if you prefer the multiplier route to overclocking or if you want the multiplier available as one of the variable OC parameters. However, be prepared for a significant increase in price. The Core i7 965 street price is around $1000.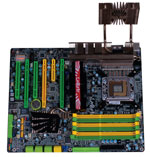 The DFI LP UT X58-T3eH8 LGA 1366 is the best overclocking socket 1366 motherboard we have tested so far. DFI is a motherboard name with a long history of overclocking champions, and the new LAN Party UT X58 will not disappoint. Recent DFI boards have been some of the best overclocking designs we have seen from DFI. The company hired some engineers from the old Abit and their influence is certainly seen in recent designs. The DFI X58-T3eH8 is also compatible with either CrossFire or SLI, which provides great flexibility in selecting a GPU. The entry i7 Gigabyte GA-EX58-UD3R is a superb motherboard, but it is CrossFire only. That is not really an issue if you select an AMD video card, but it does somewhat limit choices for future expansion. With both CrossFire and SLI compatibility, the DFI can go wherever the GPU market leads and still support future expansion to multiple GPUs.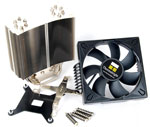 Several well-known coolers offer optional adapters for socket 1366, but the cooler choice to mate with the DFI X58 board for overclocking is the Thermalright Ultra-120 eXtreme-1366 RT. This is basically the top performing Thermalright Ultra-120 eXtreme from our Core 2 tests combined with a socket 1366 adapter and an included quiet high-performance 120mm fan. There are several socket 1366 coolers in the lab for testing and we will have more to say about their performance in the next few weeks. The Thermalright socket 1366 is a good choice for Core i7 overclocking.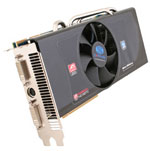 It is very difficult to recommend an NVIDIA GTX 285, or even the GTX 280, when the similar performing Radeon 4870 1GB is available for $135 less at $205. Our choice for the GPU is the MSI R4870-T2D1G Radeon HD 4870 1GB, which is the same card used in our Core i7 Entry System. The NVIDIA GTX 280 and GTX 285 are excellent alternatives if you can handle the 50% higher price or if the prices drop. We actually still prefer the performance of the NVIDIA cards on Core i7, but the price difference is hard to swallow.
Memory for overclocking the Core i7 needs to have a very wide operating range to keep up with the higher "bus" speeds needed to overclock the i7 920. The highest speed production memory you can currently buy, with performance warranted at rated speed, are the DDR3-2000 3GB kits. Right now the 3GB memory kits are also better at the higher speeds than 6GB triple-channel kits. That will be changing soon, however, as higher speed 6GB kits are starting to make their way to market.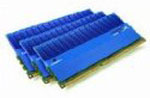 Our selection is close to the highest speed available with the top-performing Kingston HyperX T1 3GB (3x1GB) DDR3-1866 (PC3-14900) triple channel kit. You are guaranteed a latitude to DDR3-1866 above the normal speed of DDR3-1333. You can also dial down the base speed to 1066 to squeeze even more range from the memory. Kingston normally rates their HyperX memory conservatively and it is likely to perform even better than rated. If you want the fastest 3GB kit you can buy you can choose the 3GB DDR3-2000 kit from G.Skill or the hard to find DDR3-2000 kit produced by Kingston. The Mushkin DDR3-1600 kit used in the Dream i7 system is also a good choice because of the very fast rated timings of 7-8-7 at DDR3-1600 in a 6GB memory kit instead of the 3GB we chose for this i7 OC system.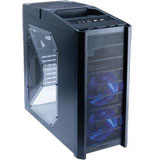 The case receives an upgrade with the selection of the well-regarded Antec Nine Hundred which bottom mounts the power supply and provides plenty of internal storage. Cooling is provided by 120mm fans and a massive 200mm top exhaust fan. The Nine Hundred is a great choice for an overclocking case that will use air-cooling. There is also the upgrade Nine Hundred Two for about $50 more.
An overclocking power supply for the Core i7 needs plenty of reserve power provided by a conservative design with solid build quality. The 850W Corsair CMPSU-850TX should be able to handle whatever you want to do with this i7 system. It is 80 Plus certified and provides 12V power on a single rail. There is also the fact that Corsair has a reputation for conservatively rating their power supplies, which means this 850W should be as good as many other 1000W power supplies. That makes the 850TX a great value at just $140 after rebate.
An SSD (Solid State Drive) would be a great addition for a boot drive and/or game drive in this Core i7 OC system. The problem is we don't yet know which SSD to recommend. AnandTech is in the process of testing the latest generation of cheaper SATA II designs, but until this is complete it would be impossible to recommend any SSD other than the expensive Intel 80GB and 160GB SSDs. In our previous tests, the earlier SSDs were plagued with data corruption issues as the drive neared capacity and with annoying random pauses that were particularly troublesome in gaming. Anand is in the process as this goes to press of evaluating new SSDs for an upcoming review. Be sure to look for his SSD roundup and recommendations for an SSD. I have been using a very reasonable G.Skill 64GB SATA II SSD with good results for several weeks. The SSD is just $129 and the entire Windows 7 beta system with all drivers occupies just 30GB of the 64GB available. My subjective experience has been good, but this is one of the drives included in the SSD roundup where it will be tested in a more systematic manner.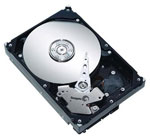 Our storage drive selection for the Core i7 Overclocking system is the Seagate Barracuda 1TB drive (1000GB). While the Seagate 1.5TB drive and the early 1.0TB drive were plagued with firmware problems at their release, the performance and reliability of this later 1TB Seagate has been excellent in our testing so far. For a price of around $100 the value is incredible. While there are differences between hard drives, outside of running benchmarks most people aren't likely to notice the difference in performance between Western Digital, Seagate, Samsung, Hitachi, and other major brands. All are worthy of consideration if the price per gigabyte (or terabyte) is right.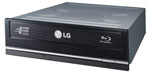 We feel the optical drive for the Core i7 OC system needs to both play Blu-ray disks and burn 25GB/50GB Blu-ray discs. We have upgraded the optical drive to the flexible LG GGW-H20LK burner, which is now selling for just $190 and has the ability to both read and write Blu-ray disks. It also can burn DVDs at 16x speed in single or dual-layer formats.
The onboard audio solution is adequate for most of today's computer users. That is why we stuck with the onboard audio on the DFI. This also removes one more overclocking variable in that it is easy to turn off onboard audio if for some reason it becomes an impediment to overclocking. If you are heavily invested in game titles that do best on a Sound Blaster card, you might consider a Creative Labs sound card. If you gravitate toward audiophile quality, the ASUS Xonar 1.1 is a good upgrade.
Speakers have been upgraded to the Logitech G51 155W RMS 5.1 surround sound speakers. They are selling for $90 after a $40 rebate, which is a great value on these well-regarded powered speakers.
The LCD display resolution is the same 1080p HD resolution chosen for the value midrange systems; the size of the monitor however is increased to 24" so everything on screen is just a little larger. The ASUS VW246H 24" 2ms (GTG) HDMI provides the preferred DVI and HDMI inputs, as well as an analog VGA port. Panel speed is rated at 2ms, but we have found most current LCD panels perform similarly and the speed rating does not really guarantee very much. The ASUS monitor provides a sharp image, good colors, and fast panel speed at a very good price of $290. For more information on what matters in a monitor and how to read LCD specifications take a look at our Holiday 2008 Display Guide.
It is worth pointing out that all the LCD monitors from the new class of 21.5" full 1080p to the large 28" monitors all feature resolutions of 1920x1200 or 1920x1080. Older 22" monitors are 1680x1050. The point here is that for higher resolution - higher than 1920 horizontal resolution that is - the next step in monitors is the 30" 2560x1600 displays. Moving up to a 26"-28" LCD gives bigger pixels, not a higher resolution. (Yes, there are also a few 23" LCDs with a slightly higher 16:9 resolution, like the Dell SP2309w, but 2048x1152 isn't a huge step up.) Also note that nearly all new 21" to 28" LCDs are using TN panels instead of S-PVA or S-IPS, particularly the inexpensive options. There's a reason some 24" LCDs still cost over $500.
The Bottom Line for the Core i7 Overclocking System is $2137 for the complete system. We are confident that with a little effort you can overclock this system to 3.6GHz to 4.0GHz on air-cooling. Of course, we could never guarantee that result as components do vary in their capabilities, but you should have every expectation that this Core i7 OC System can easily perform at levels higher than the $1010 Core i7 965, which is specified at 3.2GHz.