Intel Value Midrange
While Intel still owns the very top in CPU performance, the Phenom II has made AMD competitive in the upper midrange to the low high-end. As higher speeds are introduced for Phenom II, that CPU parity will likely move up the CPU scale. That means that midrange to low high-end is now also an area where you can choose Intel or AMD based on the unique features of each platform or expansion capabilities, rather than one brand dominating performance.
The Intel Value Midrange is built around a fast Intel Core 2 Duo CPU. For most applications and gaming, a faster Core 2 Duo is normally a better performance choice than a slower quad-core. CPU intensive applications like video manipulation do benefit from a quad-core CPU, which should be your choice if those applications are important to you. A few recent games are finally taking advantage of quad-core as well.
Intel Value Midrange PC
Hardware
Component
Price
Processor
Intel Core 2 Duo E8500 Wolfdale
(3.16GHzx2, 6MB L2)
$188
Cooling
XIGMATEK HDT-S1283 120mm Rifle CPU Cooler
$37
Video
SAPPHIRE 100259-1GB Radeon HD 4870 1GB
$230
Motherboard
Gigabyte GA-EP45-UD3P
$137
Memory
OCZ Reaper 4GB (2 x 2GB) DDR2-1066 Dual Channel Kit,
$46
Hard Drive
Seagate Barracuda 7200.11 ST31000333AS 1TB
$110
Optical Drive
LG BD/HD DVD / 16x DVD+/- RW GGC-H20LK
$99
Audio
Creative Sound Blaster X-Fi Xtreme Audio 7.1 Channels 24-bit 96KHz PCI
$50
Case
COOLER MASTER RC-690-KKN1-GP ATX Mid Tower
$80
Power Supply
PC Power & Cooling S75CF 750W SLI CrossFire Ready 80 PLUS Certified
$80
Display
Acer H213H bmid Black 21.5" 5ms HDMI Widescreen 16:9 Full HD 1080P LCD Monitor (1920x1080)
$199
Speakers
Logitech X-540 70 watts 5.1 Speaker - Retail
$79
Input
Microsoft CA9-00001 Black PS/2 Standard Keyboard and Optical USB/PS2 Mouse - OEM
$16
Operating System
Microsoft Vista Home Premium OEM
$99
Bottom Line
$1450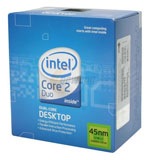 The CPU is one of the fastest Core 2 Duo chips on the market. The E8500 at 3.16GHz is just one step below the fastest Core 2 Duo E8600 which clocks at 3.33GHz. It also overclocks exceptionally well, reaching 4GHz and even higher with relative ease. Because of this OC ability and the value goal of this system build, the E8500 has been matched with components that are also excellent choices for overclocking. The E8500 is plenty fast on its own, but if overclocking interests you this Intel Value Midrange will be ready for action - and ready to overclock to wherever your particular E8500 can go.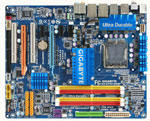 The big brother to the UD3R selected in our under $1000 guide is the $137 Gigabyte GA-EP45-UD3P that has a similar feature set but adds a second x16 slot (in place of a PCI slot) for dual x8 CrossFire operation. The board provides an excellent overclocking platform along with great stability. If the second x16 slot is not important to you, we suggest sticking with the UD3R. This P45 chipset motherboard has earned its reputation as a sterling overclocker, while also maintaining excellent stability. It is a good match to the selected Core 2 Duo E8500 or an alternate quad-core Q8200 (2.33GHz).
While the stock Intel cooler is adequate for modestly overclocking a Core 2 Duo, better cooling is needed to push the CPU to its limits. The Xigmatek HDT-D1283 120mm Rifle Cooler did very well in our cooling tests and it is a good match to the E8500. OCZ also markets a similar 120 Rifle cooler and either should work well in this system.
For this Value Midrange system, faster memory with more overclocking headroom was chosen. With the current OCZ rebates some of their best memory is available at truly bargain prices. The choice for the Intel system is an OCZ Reaper 4GB DDR2-1066 (PC28500) kit. With attached heatspreaders and the unique Reaper heatpipes and external heatsink, this 4GB kit is ready for overclocking. The base specs of DDR2-1066 at 5-5-5-18 are also impressive even if you never overclock. Value is good at the normal $76, but with the current $30 rebate the price is an easy-on-the-budget $46.