Let's Get Ridiculous: $130 - $180 Graphics Cards
This is arguably the most important market segment in this entire list. At $150+ the price isn't going to break the bank compared to other graphics hardware, and the performance we can expect is great for gaming at widely used resolutions like 1280x1024 and 1680x1050. This is the lowest performance card anyone who calls him or herself "gamer" will want in their system (though sometimes it is necessary to get by with a little less), but don't mistake that qualification for anything that implies disappointment. Those who need more than what can be had at this price only need it because 1) they are professional gamers, 2) they have large (high resolution) monitors or 3) want it real bad (not all decisions have to be logical, I understand and even identify).
Okay, maybe I'm generalizing a bit much here, but seriously, $150 gets you a lot these days. These cards won't run the highest settings at the highest resolutions in all games, but they will run the highest settings in most games at decent resolutions. They can muster 1920x1200 with reduced quality if you need to push it that high to connect with an HDTV or something.
The midrange segment is populated with what used to be high end hardware from NVIDIA. The GeForce 9800 GTX/GTX+ are priced between $150 and $200 depending on the vendor and whether or not the hardware is overclocked. At the lower end of this price spectrum, this competes with the Radeon HD 4850 from AMD, which happens to be our pick for the best midrange graphics option this holiday season. The AMD solution is generally the same performance or better than the GeForce 9800 GTX, and is more easily found at lower prices (and with rebates can even be found for less).
Beyond the performance and price of the Radeon HD 4850, the card is much smaller, quieter and doesn't require as much power. Because of this, while not the ideal HTPC card, the 4850 does offer a compelling hybrid solution for the living room that can provide an okay HTPC experience (it will be louder than cheaper cards that are designed for HTPCs) as well as a decent gaming experience on an HDTV in the living room. Sure, game consoles are the king of this space, but even this modest card offers multiples of the performance of the graphics hardware in either the XBox 360 or the Playstation 3.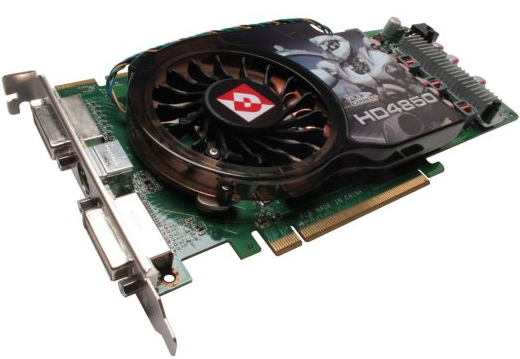 The beloved RV770, the Radeon HD 4850 (Image From newegg.com)
Recommendation: ATI Radeon HD 4850
| | | | |
| --- | --- | --- | --- |
| Newegg | ZipZoomFly | TigerDirect | Buy.com |
| PowerColor Radeon HD 4850 | ASUS Radeon HD 4850 | Diamond Radeon HD 4850 | Diamond Radeon HD 4850 |
| | $132 | $130 | $182 |