Ultra High-End AMD System
Ultra High-End AMD System
Hardware
Component
Price
Rebates
Processor
2 x AMD Athlon FX-74
$916
-
Motherboard
ASUS L1N64-SLI WS
$313
-
Memory
2 x Corsair XMS2 2GB PC2-6400 Kit (4x1GB total)
$294
$80
Video Card
2x MSI NX8800GTX-T2D768E-HD OC GeForce 8800GTX
$1140
$40
Hard Drive
WD Raptor WD1500ADFD plus WD 5000YS
$361
-
Optical Drive
Pioneer DVR-212BK
$42
-
Operating System
Windows Vista Home Premium 64-bit (OEM)
$125
-
System Total
$3191
$3071
Complete Package
$3732-$5391
$3607-$5266
The AMD Ultra High-End system gets two additional cores added due to the low cost of their FX-74 offering. While single-threaded applications (including, as already mentioned, most games) will not be able to take advantage of the four cores in this system, the processors will be leveraged wonderfully by most productivity applications (including, notably, media encoding). AMD is in the unenviable position of not having any quad CPU offerings that can compete directly with Intel's fastest quad core processors (the QX6800 and QX6700), but the dual sockets do offer improved bandwidth and scaling which can help in certain applications. Also note that the socket 1207 platform will have you ready to upgrade to AMD's Barcelona CPUs (now called Phenom) with the ability to run an octal core configuration later this year. If you really want eight cores, though, you might want to hold off a few months until the new CPUs become available.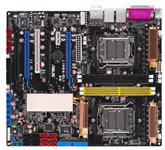 Moving up the motherboard chain, the Ultra High-End system is treated to the ASUS L1N64-SLI WS motherboard. While that certainly carries a hefty price tag, this 680a SLI-based motherboard is currently the only solution for AMD enthusiasts that want to run a Quad FX platform. The good news is that ASUS definitely doesn't skimp on the features. You get a whopping four x16 PCI-E slots (two x16 bandwidth and two x8 bandwidth) and 12 SATA ports, along with more typical stuff like FireWire. At present, it's important to note that this motherboard requires both processor sockets to be populated in order to function properly, and for optimal performance you will also need to populate all four DIMM slots (giving dual channel bandwidth to both processor sockets).
Also keep in mind that while the latest Opterons and the Quad FX processors use socket 1207, the two processor families are not interchangeable - or at least they're
not supposed to be
. Quad FX processors use regular unbuffered memory and Opterons use registered ECC memory. Regardless, AMD has pretty much guaranteed that they will be releasing quad core Barcelona (Phenom FX) CPUs that will run on this motherboard later this year, most likely before quad core socket AM2 processors are released. To be honest, we're far more interested in this motherboard and platform as something for the future than for what it offers right now, and that being the case we're inclined to wait for actual performance numbers from AMD's next-generation architecture before laying out this much money on a new system.
Populating all four DIMM slots was a priority, so we chose four 1GB Corsair XMS2 memory sticks. An alternative option (especially if you plan on upgrading the AMD Ultra system to eight cores) is to go with some 2GB DIMMs like Corsair 2GB XMS2 memory sticks, though this adds an additional $180 to the system price.
As is typically the case with gaming rigs, the graphics solution is the most expensive part of this system. Yes, the Ultra series cards are the fastest gaming cards on the planet right now, but until the cards come down from their stratospheric price point, they won't fit into the budget of even our Ultra High-End system. The MSI NX8800GTX-T2D768E-HD OC come clocked at 610MHz, which is higher than most other GTX cards based on
NVIDIA specifications
and also more or less matches the default 612MHz base clock of the 8800 Ultra (though the Ultra admittedly has faster RAM clocks and can usually overclock the cores even further). The dual 8800 GTX cards come in at a whopping $1100 for the pair (after rebates), which is a pretty astounding amount of money to spend on a graphics solution. For an extra $600, you can make the leap to the 8800 Ultra series solution.
It has
long been known
that RAID 0 is of little to no benefit to most users... so why do other Buyers' Guides insist on pairing two drives in a RAID 0 configuration? The WD Raptor 1500ADFD is currently the fastest SATA drive on the market today, though its 150GB capacity lags behind current storage trends. The WD RE2 500 makes up for this capacity as a second drive, ensuring that the system enjoys the benefits of both unparalleled single user performance in OS and application load times, as well as ensuring the system has ample capacity for storage intensive applications. Both drives come with 5 year warranties. If you want even more storage capacity, consider the Seagate 750GB and Hitachi 1TB drives as an alternative. The Hitachi 1TB drive is one of the fastest drives we've tested, at times even besting the Raptor drives.
While RAID will not markedly improve performance for the average user, it can improve either reliability (RAID 5, RAID 1), or single volume data capacity (RAID 0). Another viable option for a system in with these requirements is to look at three hard drives and a dedicated RAID controller, like the 3Ware 9590SE. Users that require such configurations on their desktop systems are few and far between, though, so make sure that you are buying components you truly need.
Given the components used in this system, it's no surprise that we decided to go with a 64-bit operating system, and as we suggested on the previous page we recommend Windows Vista over Windows XP when it comes to 64-bit Microsoft operating systems. If you only want to run 2GB of memory, you can certainly get by with a 32-bit OS for the time being (either Vista or XP), but if that's the case you probably don't want to bother with AMD's Quad FX platform. We also selected the OEM version of Windows Vista in order to save some money, but purchasing the full retail version might serve many of you better. The OEM versions can only be activated a single time on a specific set of hardware; once you've activated the copy, it's tied to your motherboard and you cannot use it on a different motherboard in the future. If you're the type of user to frequently upgrade motherboards, you should definitely pick up a retail copy of Windows Vista instead. The retail product also gives you the option of choosing to install either the 32-bit or the 64-bit version.