Memory Recommendations
While we wait for AMD socket AM2 to launch, we still need to have separate memory recommendations for AMD and Intel systems. Just as I'm done recommending single core processors for midrange computers, I'm upgrading both systems to 2GB of RAM. If you're running a dual core processor and doing a lot of multitasking, the extra memory will definitely come in handy. Prices have also dropped to the point where even good quality 2GB kits don't cost that much. It was about 18 months ago that we stopped recommending 512MB configurations for midrange computers, which means it's about the right time to bump up to the next level of memory. Hopefully, in another 18 months we will be able to recommend 4GB of RAM for less than $200.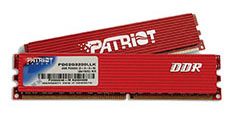 Click to enlarge
DDR Memory:
Patriot PC-3200 2x1024MB EPLL (2-3-2-5-1T)
Price:
$190 shipped (Retail) - $55 Mail-In Rebate until 5/15/2006
Choosing a 2GB kit of DDR memory was actually relatively easy. There are kits out there that will overclock higher (without using lower memory ratios), but the majority of them cost quite a bit more. There are also a lot of mail-in rebates currently available for DDR memory, most likely due to the pending launch of AM2. This Patriot memory comes with the lowest timings you can find on any DDR 1GB DIMM, and it also happens to be one of the cheapest 1GB DIMMs available. My experience is that you can push the memory up to around DDR-450 with relaxed timings, so combined with the memory ratios on AMD motherboards you can still achieve good overclocks. If you're willing to spend a bit more money, Corsair, OCZ, G.Skill, Kingston, and Crucial are all reasonable alternatives - and potentially cheaper, depending on whether or not you take advantage of the mail-in rebate.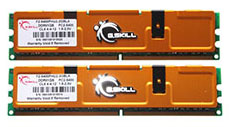 Click to enlarge
DDR2 Memory:
G.Skill PC-5300 2x1024MB Extreme LA (4-4-4-12)
Price:
$148 shipped (Retail)
Moving to the DDR2 recommendation, there are thankfully no mail-in rebates to worry about. Balancing maximum bandwidth against latency and price, DDR2-667 looks to be the sweet spot. The G.Skill memory offers reasonable timings of 4-4-4 at that setting, and the price is only about $15 more than DDR2-533. A quick glance at the DDR price shows that without mail-in rebates, DDR2 definitely has the advantage, and a higher potential bandwidth doesn't hurt either. If you're thinking about DDR2 memory for the new socket AM2 platform, you might want to upgrade to DDR2-800 memory. That will bump the price up to $220 or more, but for Intel platforms we don't feel it's truly necessary (except for the extreme performance people that are buying $1000 P4XE processors). Should you spend the extra money right now to upgrade to DDR2-800, so that you can take it over to your AM2 platform in the future? Personally, I would say no - you can just sell off your current system and buy new memory if you upgrade motherboards and processors in the future. Six months from now, there will almost certainly be better DDR2 memory available anyway.