Visual Inspection
The ASRock Rack EPYCD8-2T is an ATX motherboard which features support for both AMD EPYC 7001 (Naples) and EPYC 7002 (Rome) single-socket processors. The EPYCD8-2T has a single transposed socket to allow for optimal airflow when used within a 1U chassis, but this model is also compatible for use in regular chassis that support ATX motherboards. ASRock Rack is using a green PCB with blue memory and blue PCIe 3.0 slots, with silver aluminium heatsinks for the power delivery and controller set.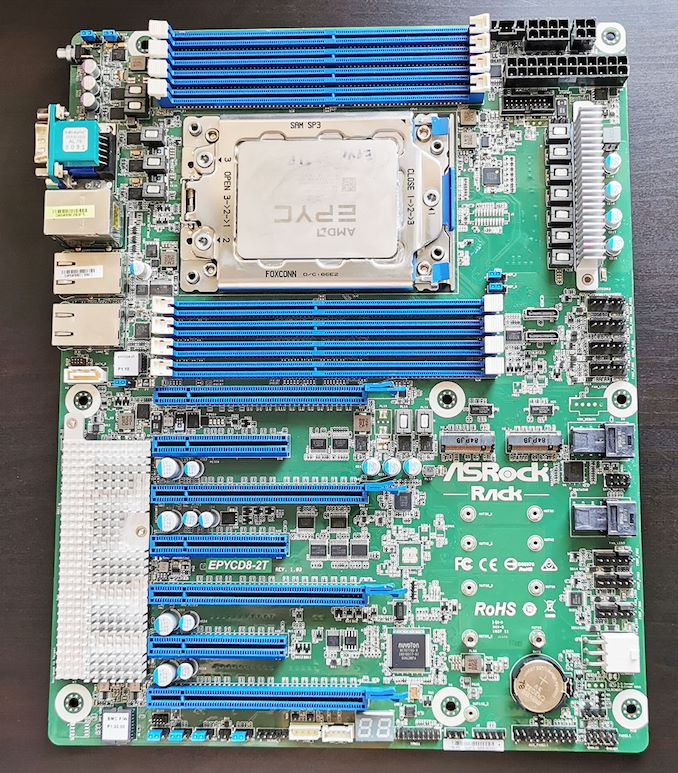 Even though the EPYCD8-2T is using an ATX sized PCB, ASRock Rack has managed to fit a total of seven PCIe 3.0 slots, with four full-length PCIe 3.0 x16 slots, and three open ended half-length PCIe 3.0 x8 slots. These slots from top to bottom operate at x16/x8/x16/x8/x16/x8/x16.
For this model to support EPYC 7002 processors, users who end up with one of the earlier runs will need to perform a BIOS update. (Our board was so fresh, it only came with a 16 MB chip, whereas a 32 MB BIOS chip is needed - ASRock informs us all retail units have the 32 MB chip).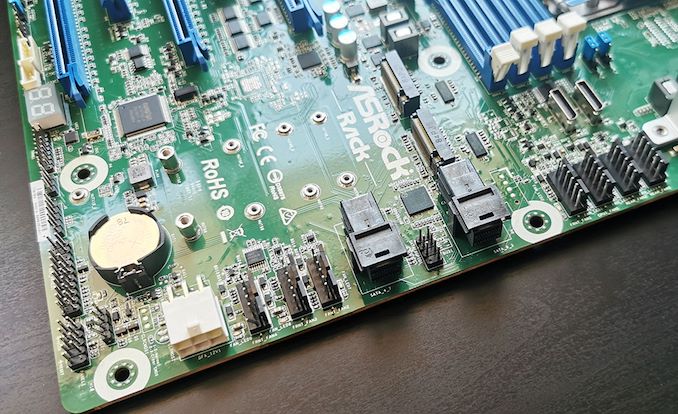 For storage, the ASRock Rack EPYCD8-2T has the capability to support up to nine SATA devices. This is possible with two miniSAS HD slots with each slot supporting up to four SATA devices, with a SATA DOM also present on the board. In addition to the SATA are two PCIe 3.0 x4 M.2 slots, which also support SATA M.2 drives. Although the EPYCD8-2T doesn't include U.2 ports directly, it includes two OcLink ports so U.2 drives can be used.
Touching on cooling support, the EPYCD8-2T has a total of seven 6-pin fan headers with one for a CPU fan, and six for chassis fans. Four of the chassis headers are assigned to front fans, and two for rear fans, which signifies official support for users looking to install this board into a 1U chassis. For power, a 24-pin 12 V ATX is present to provide motherboard power, with an 8-pin and 4-pin for CPU power. ASRock Rack also includes a 6-pin connector to provide additional power to the PCIe 3.0 slots.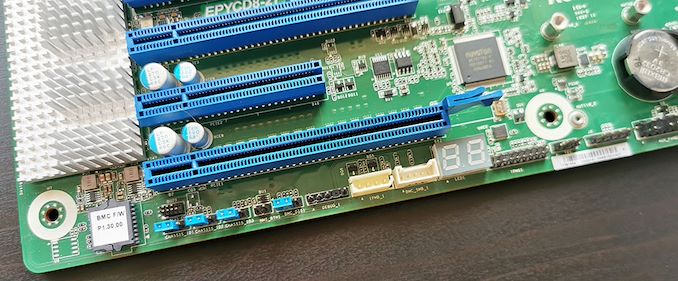 Along the bottom of the board is a number of headers including a USB 2.0 header which supports two additional ports, a TR1, TPM, BMC_SMB and IPMB headers. A two-digit LED debugger is also present for troubleshooting potential POSTing failures. A large silver aluminium heatsink is located in the bottom left-hand corner for the board which keeps the board's controller set cool This includes the Aspeed AST2500 BMC and Intel X550 dual 10 G Ethernet controller, as well as the Realtek RTL8211E Gigabit controller designated for the boards IPMI.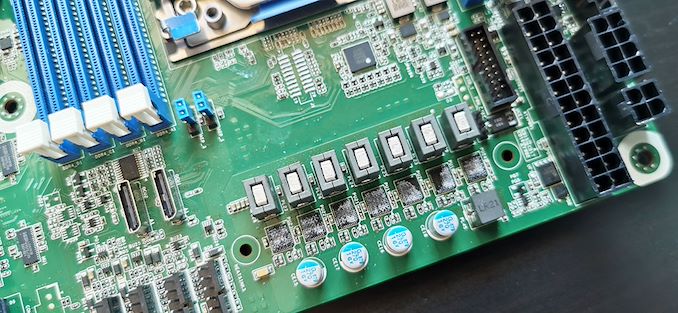 The power delivery on the ASRock Rack EPYCD8-2T is using a basic 7-phase configuration for the CPU. The power delivery does include a small heatsink which uses screws to retain pressure. The EPYCD8-2T has support for up to 64-core EPYC 7002 processors and is more than capable to power such a powerful professional-grade processor.

On the rear panel is very little in the way of input and outputs, with just two USB 3.1 G1 Type-A ports present. To enable more, users will need to make use of the single USB 3.1 G1 header which offers two additional ports. A single USB 2.0 header also provides two extra ports bring the boards total of USB support up to six when factoring in the ports on the rear panel. Located above the two USB 3.1 G1 Type-A slots is a Realtek RTL8211E dedicated management Gigabit port, with a further two 10 G Ethernet ports powered by an Intel X550 10 G controller. Also present is a UID button with LED, a D-sub video output powered by the Aspeed AST2500 BMC controller, and a serial port.
What's in the Box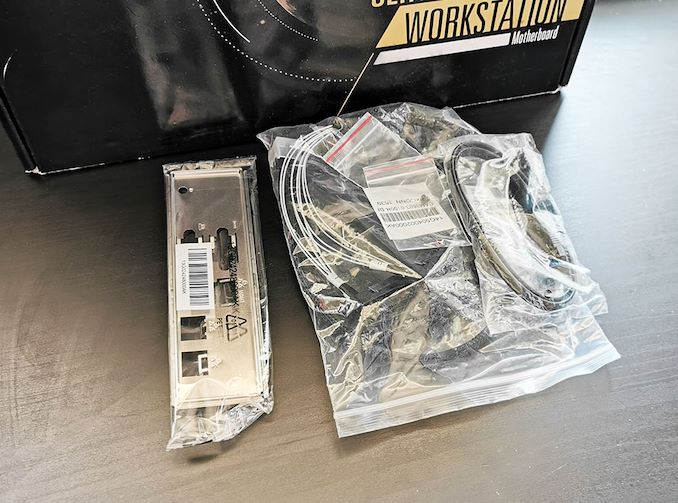 Included in the retail packaging is a small, yet effective accessories bundle is a rear panel I/O shield, a single SATA cable, a mini SAS to four SATA port cable, two M.2 installation screws, and a quick installation guide. ASRock doesn't distinguish between retail packaging and bulk packaging on the official product site.
SATA cable
mini SAS to four SATA cable
2 x M.2 installation screws
Quick installation guide
Rear panel I/O shield