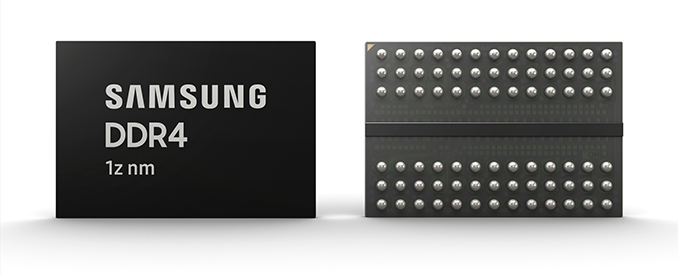 Samsung has completed development of its 3rd-generation 10 nm-class manufacturing process for DRAM as well as the first 8 Gb DDR4 chip that uses the technology. The 1z-nm process technology is said to be the world's smallest process node for memory, and will enable Samsung to increase productivity without needing to go to extreme ultraviolet lithography (EUVL) at this time. The company plans to start volume production using the technology in the second half of 2019.
Samsung says that its 3rd Generation 10 nm-class manufacturing technology (also known as 1z-nm) for DRAM enables it to make 20% more 8 Gb DDR4 memory chips per wafer than the 2nd Gen 10-nm class (aka 1y-nm) does. An increase of the number of dies per wafer essentially means that the new 8 Gb DDR4 device is approximately 20% smaller* than the previous-gen 8 Gb DRAM, which means a tangible decrease of production costs at the same yield and at the same cycle time. This should mean cheaper DRAM pricies for consumers.
Samsung traditionally does not disclose exact smallest half-pitch size of the new memory device, so at this time we do not have any information about the new chip's geometries. Since we are dealing with a 1z node, it is reasonable to assume that the smallest half-pitch size is well below 15 nm, but this is speculation.
The world's largest maker of memory is especially proud that its 3rd Generation 10 nm-class manufacturing technology for DRAM continues to use ArF (argon fluoride) immersion lithography tools and does not require EUVL. Keeping in mind that ultra-thin nodes require multi-patterning in case of immersion lithography, it is logical to assume that Samsung uses this method along with various tricks to ensure good yields and performance.
Samsung will start production of 8 Gb DDR4 memory chips using its 1z-nm fabrication process in the second half of the year. The first products based on the 8 Gb 1z chips will be DDR4 DRAM modules. Once they are validated by CPU designers, they will be used for PCs in 2020.
Going forward, the same manufacturing technology will be used to produce DRAMs with "higher capacities and performance".
Related Reading
Source: Samsung
*Note: This is a very rough calculation.