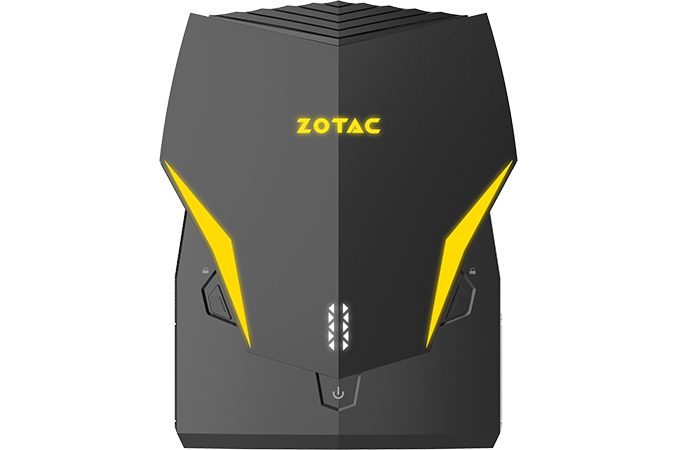 Multiple makers of gaming PCs formally introduced their wearable backpack PCs for VR gaming at Computex 2016 and have never updated these systems since then. But apparently after two years, it is time for an upgrade. ZOTAC announced on Thursday that it would demonstrate its VR GO 2.0 system at Computex 2018 next week.
Having learnt from the first-generation VR GO, ZOTAC made its second-gen wearable backpack PC smaller and lighter than the original one. ZOTAC intends to disclose final specs of the unit at Computex (so stay with us), but it's likely that the new PC will be based on Intel's Coffee Lake CPU with up to six cores, along with various SFF or mobile components (e.g., SO-DIMMs, mobile GPUs) to make the system small and more energy efficient.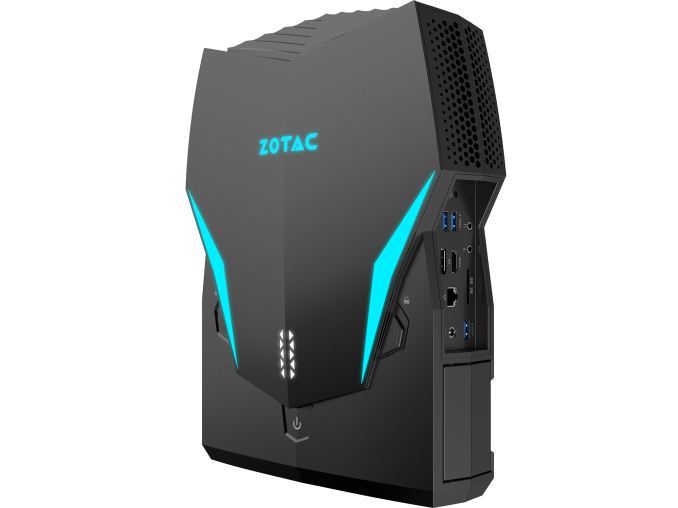 The new PC retains one of the key features of the original VR GO computer (besides its wearable nature, of course) — autonomous operation enabled by built-in batteries. Meanwhile, just like its predecessor, the VR GO 2.0 can be used like a regular desktop PC: its form-factor allows it to be laid out on a desk either vertically or horizontally and all the ports will remain accessible. Speaking of ports, the new VR GO is equipped with one Thunderbolt 3/USB Type-C header, six USB 3.0 Type-A connectors, one GbE, two HDMI outputs, a DisplayPort, an SD card reader, as well as two 3.5-mm audio jack.

Following the general market trend, the VR GO 2.0 will feature ARGB lighting on the back to make the system not only feel better than the first-gen VR GO, but also look more impressive.

Preliminary specifications, ETA, and other details about the ZOTAC VR GO 2.0 will be disclosed next week at Computex, so stay tuned with us for additional information about the system.
ZOTAC VR GO Comparison
VR GO
VR GO 2.0
CPU
Intel Core i7-6700T
4 cores/8 threads
Intel Coffee Lake CPU
up to 6 cores/12 threads
(unconfirmed)
PCH
unknown 100-series
unknown
Graphics
NVIDIA GeForce GTX 1070
2048 stream processors
128 texture units
64 ROPs
256-bit memory interface
8 GB of GDDR5 8 GT/s memory
Discrete
Memory
Two SO-DIMM slots
16 GB DDR4-2133 installed
compatible with up to 32 GB of DDR4-2133
DDR4
Storage
240 GB M.2/PCIe SSD
+ one extra 2.5"/SATA bay
unknown
Wi-Fi
802.11ac Wi-Fi + Bluetooth 4.2
802.11ac Wi-Fi + Bluetooth
Ethernet
2 × GbE ports (Realtek)
1 × GbE ports
Display Outputs
3 × HDMI 2.0
2 × DP 1.3
2 × HDMI 2.0
1 × DP
Audio
3.5 mm audio in and 3.5 mm audio out
USB
6 × USB 3.0 Type-A (5 Gbps)
Other I/O
DC12V-out for HTC Vive
Dimensions
410 mm × 270 mm × 76 mm
16.14 × 10.63 × 2.99 inches
~330 mm × 220 mm × 90 mm
13 × 8.66 × 3.54 inches
(unconfirmed)
Weight
update: 4.95 kilograms
Lighter
PSU
External
Batteries
2 batteries, rated at 95Wh, 6600mAh
unknown
OS
Windows 10 Home
Windows 10
Price
$1999.99
unknown
Related Reading: