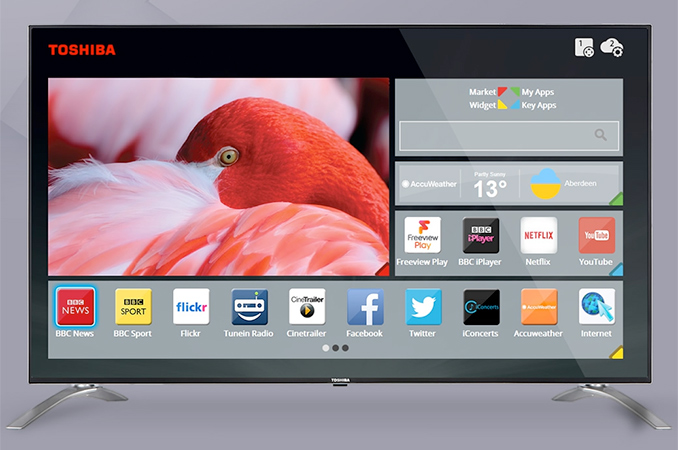 Toshiba on Wednesday announced plans to sell 95% stake in its TV business unit to Hisense Electric for approximately $114 million. The transaction will strengthen Hisense's positions as the world's fourth largest supplier of TV sets after Samsung, LG and TCL. Hisense will continue to use the Toshiba brand for TVs designed and made by the assets it acquires.
Under the terms of the agreement, Hisense will pay ¥12.9 billion ($114 million) for 95% of Toshiba Visual Solutions Corp. (TVS), which owns Toshiba's TV-related R&D operations, a portfolio of patents and IP, two factories in Japan, sales, services and other operations. Hisense will also get a license to use the Toshiba brand for a period of 40 years for TVs (and other "visual" products) in Europe, South East Asia and other markets. Toshiba hopes to close the deal by the end of February, 2018. Two and a half years ago, Toshiba already withdrew from the North American as well as European TV markets and licensed its brand in the regions to Compal (1, 2). Now, it is selling off the entire business unit and therefore it remains to be seen what happens to its agreements with Compal (most likely, the brand licensing agreement in Europe will not be renewed in 2018, but we will see about this and other markets).
Liu Hongxin, CEO of Hisense, indicated that TSV would become an integral part of the Hisense Group and therefore the company would optimize its R&D, supply chain and sales operations, but did not elaborate. In addition, the future Toshiba-branded TVs will use LCD panels made by Hisense.
Top 10 TV Makers by Market Share in the Recent Years
Data by NPD DisplaySearch
2014
2015
2016
Brand
Share
Brand
Share
Brand
Share
Samsung
20.82%
Samsung
21%
Samsung
21.6%
LG
13.58%
LG
12.4%
LG
11.9%
Sony
6.22%
TCL
7.7%
TCL
9%
TCL
5.19%
Hisense
5.6%
Hisense
6.1%
Hisense
4.93%
Sony
5.5%
Sony
5.6%
Skyworth
3.95%
Skyworth
4.6%
Skyworth
4.5%
Panasonic
3.59%
TPV (Philips)
3.7%
TPV (Philips)
3.8%
Toshiba
3.4%
Vizio
3.4%
Vizio
3.7%
TPV (Philips)
3.24%
Changhong
3%
Haier
3.4%
Vizio
3%
Haier
2.9%
Changhong
3.2%
Hisense, which has been the largest LCD TV maker in China for well over a decade, began its global expansion relatively recently (it entered the U.S. late in the HD era), but has been quite aggressive. Seven years ago, Toshiba was the fifth largest supplier of LCD TVs in the world with a market share of 7.3%, whereas Hisense was the No. 7 maker of LCD TVs with a 3.9% share. Since then, Toshiba's market share has dropped to 3% or below (which is why it is no longer listed among the Top 10 suppliers) partly because it withdrew from the North American market, whereas Hisense has increased its share to 6.1% in 2016 and became the fourth largest supplier of TVs, according to IHS DisplaySearch (see page 11). The acquisition of Toshiba's TV business will solidify Hisense's current position and will bring its market share closer to that controlled by TCL, the No. 3 maker of televisions.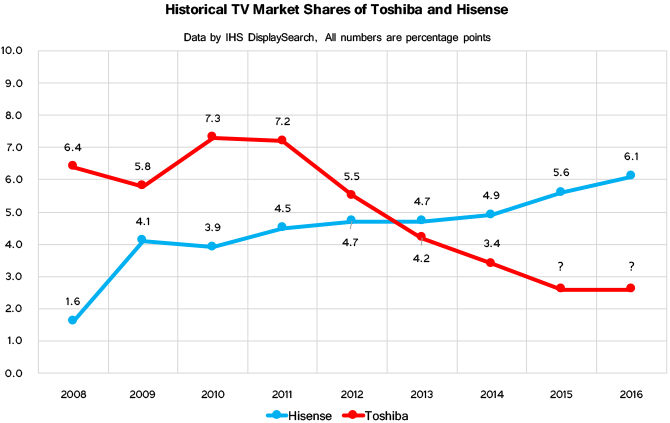 It is noteworthy that Hisense already owns a plant in Mexico as well as rights to use the Sharp trademark for TVs in North American and Latin American markets till 2020. Therefore, the Chinese company will be able to sell Sharp-branded TVs across Americas in the next two years, whereas Toshiba-branded TVs will be sold in Asia, Europe and other markets. Of course, Hisense will continue to use its own trademark as well, but it is considerably easier to grow if you have a well-known name.
Related Reading:
Source: Toshiba