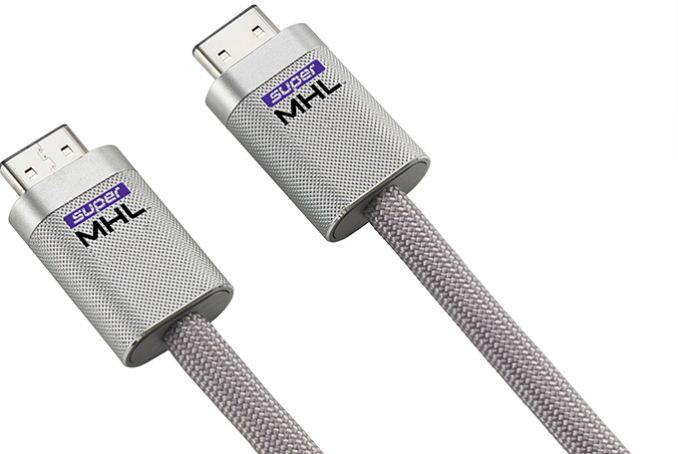 When the Mobile High-Definition Link (MHL) was introduced in 2010, it was created to solve a simple but none the less daunting problem: how to get power in and digital video out of cell phones and other mobile devices without requiring additional (or more complex) ports, such as what would be required for HDMI. The solution developed by Silicon Image and the MHL Consortium members was the ultimate piggy-back solution, devising a method to handle power and video using just 5 pins (the number of pins in a mini/micro-USB 2.0 connector) and connecting it to MHL-compliant TVs via their HDMI ports. MHL had no port or cable to call its own, but it had an altered protocol based on the same TMDS technology behind HDMI that made it possible to get video off of mobile devices.
Flash forward a few years, and while there have been successive versions of MHL – the most recent being MHL 3 – all of these have built on the original design principles of MHL, focusing on the Mobile part of Mobile High-Definition Link while improving the specification. For this reason it came as quite a surprise to us this week when we found out that the MHL consortium was planning on taking MHL beyond its mobile roots and moving into the TV space, greatly extending the features and use cases in the process. With a mandate to provide a cable for 8K video at up to 120fps, MHL is no longer aiming low; with today's announcement of superMHL, MHL is now aiming for nothing less than the top.
superMHL in a nutshell is a pair of improvements to the MHL specification to further improve mobile connectivity and to enable 8K video. First and foremost, the protocol itself is being improved: superMHL doubles the amount of bandwidth available over a single lane to allow for 4Kp60 video, along with defining support for deep color modes (10/12/16bit) and newer color spaces. This alone would be a notable improvement to MHL, especially as H.265 capable phones being to hit the market and the H.265 backers are pushing 4Kp60 video and 10-bit color themselves, necessitating a video interface capable of delivering that data.
MHL Specification Comparison
superMHL (6 Lanes)
superMHL (1 Lane)
MHL 3 (1 Lane)
Maximum Resoluion
8Kp120, 4:2:0 36-bit color
4Kp60
4Kp30
Deep Color Support
Yes
Yes
No
Power Charging
40W
Up To 40W, Depending On Cable
10W
Requires superMHL Cable
Yes
No
No
However the more dramatic change is in the second improvement coming to superMHL, which is the introduction of the superMHL cable and connector. This unusual development was spurred on by the television manufacturing members of the MHL Consortium, who in developing their future 8K (7680x4320) televisions wanted a single cable that could carry the enormous amount of data required for 8K video with deep color and high frame rates. Compounding matters, the usual TV connector of choice, HDMI, was not going to be ready for the job, as HDMI 2.0 was only planned for up to 4Kp60 video. Consequently TV manufacturers turned to the MHL Consortium, who became tasked with developing a cable and connector standard for 8K video.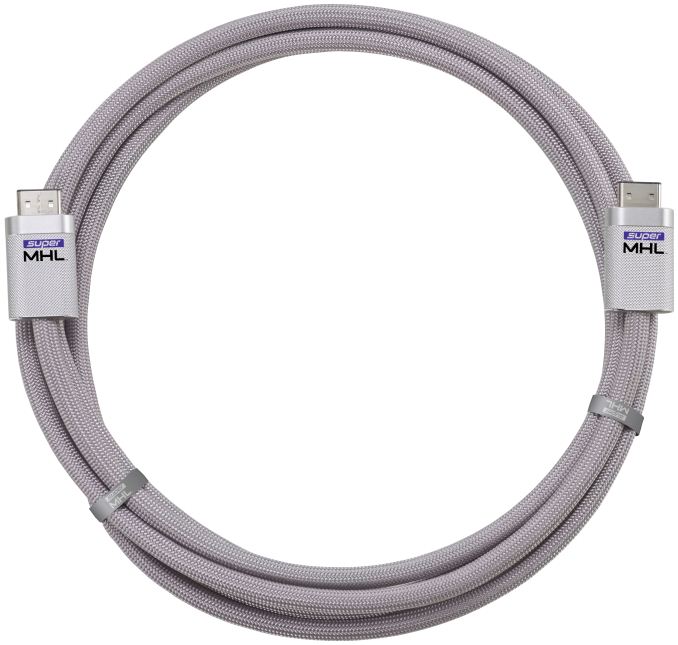 The Consortium's solution was the suitably named superMHL connector. A reversible connector containing 32 pins, the superMHL is among the densest digital video connectors ever devised, packing those 32 pins in a space roughly the same size as the 19 pin HDMI Type-A cable. With 32 pins the superMHL connector would be capable of carrying 6 lanes of MHL data as opposed to 1 lane on a traditional MHL setup, providing the necessary bandwidth for 8K video, and capable of carrying it two to three meters over a standard (passive) cable.
By going this route the MHL standard now serves two masters, mobile and the home, and consequently the standard now covers a much wider range of use cases and potential configurations. superMHL-to-superMHL cables will be the cable necessary for 8K video, and meanwhile USB to HDMI cables will continue to support mobile devices.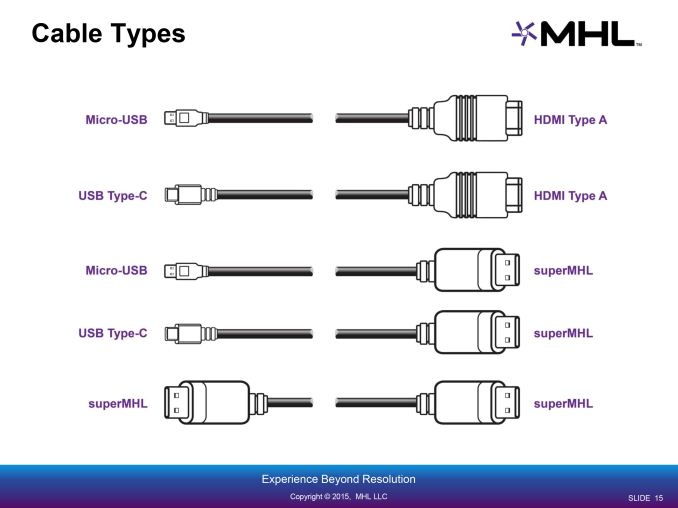 Overall the superMHL standard allows for ether the traditional HDMI connector or the new superMHL connector as a "sink" connector, and no fewer than 3 "source" connectors. Joining the regular micro-USB as a source, USB type-C and the superMHL connector are now supported as source connectors as well. Of these combinations we expect superMHL to superMHL and USB to HDMI will be the most common, especially since 4K TVs can still go ahead and implement superMHL protocol support for 4Kp60 video without using a superMHL port. However if superMHL ports on TVs gain traction, then direct USB to superMHL would become increasingly viable. Meanwhile for USB Type-C in particular, thanks to the Type-C's alternate mode support, Type-C to superMHL will be able to support 2 or 4 MHL data lanes (versus 1 for micro-USB), leaving the door open to potential mid-bandwidth use cases in the future.
Finally, along with the changes to the MHL protocol and physical interface, for superMHL the standard is also having its power and multi-display limits increased. superMHL power delivery will allow for up to 40W (20V @ 2A) versus MHL 3's 10W, which will allow MHL connections to carry enough power to not just run tablets but to charge them as well. Meanwhile, though currently rarely used in any form, superMHL increases the number of displays allowed in an MHL multi-display configuration to 8 displays, thanks in large part to the bandwidth increases.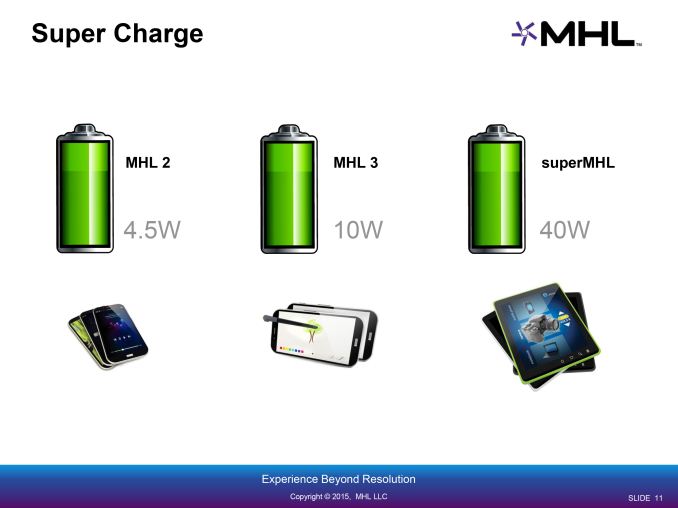 Ultimately today's announcement from the MHL Consortium marks an interesting turn of events in what has otherwise been a complementary relationship between MHL and HDMI. Though this doesn't make the standards competing standards – especially not when both are based on TMDS technology and both have TMDS owner Silicon Image among their members – this does for the first time create a real degree of overlap between the two. MHL's place in mobile is as secure as it ever was, but what will come of their home/TV efforts remains to be seen.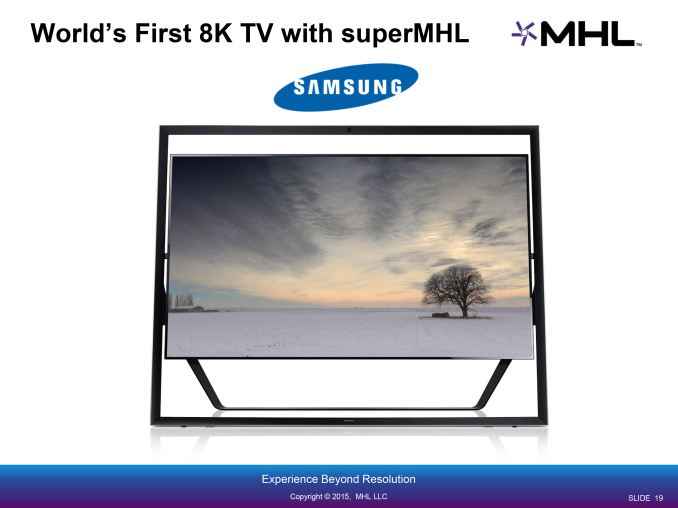 At least in the short term superMHL will be the only option for 8K TV, and in fact Samsung already has an 8K TV with superMHL up and running for CES. But how long it superMHL remains the only option for 8K is another matter entirely. Even outside of its higher bandwidth support, superMHL has some other technological advantages such as the reversible connector and the ability to carry power which give it an advantage over HDMI for 4K video, but for most cases this is not going to be a massive advantage.
In any case, ignoring the HDMI overlap for the time being, superMHL should still bring tangible benefits for both of its primary markets. With an upgraded protocol capable of supporting 4Kp60, MHL is better than ever for traditional mobile applications. Meanwhile with the new superMHL cable and connector, TV manufacturers eager to get 8K TVs out the door will finally have a single cable standard to drive those TVs with.