The People's Performers: $100 - $130 Graphics Cards
Just over the magic $100 mark is a playground for the senses. At low to moderate resolutions (1024x768 to 1680x1050) gamers using this class of hardware are all but guaranteed to be able to play with all the effects and high image quality options enabled. Antialiasing will still be hit or miss, but generally this segment provides the option to either play at the higher resolutions the hardware is capable of without AA or play at lower resolutions with some AA enabled. As antialiasing is a subjective feature in many ways (the level at which the performance tradeoff becomes useful and the degree to which antialiasing improves image quality at specific pixel sizes are really tough to generalize). The flexibility available at this price point is definitely desirable to those who like to tinker.
It is possible to get up to HDTV resolutions, but sometimes this requires a quality reduction and it isn't likely that antialiasing will be an option on modern games at resolutions over 1680x1050. Half resolutions on HDTVs or 30" monitors (for those who need high res 2D and still want a little gaming performance) scale well on digital panels and this price point should get you up to 1280x800 with some level of AA in a good many games and high quality settings.
This price point may get overlooked sometimes, as three digit numbers can be a deal breaker for some and those willing to spend a little more could be more attracted to the better performance of slightly more expensive cards. This space also gets a little blurry because of the availability of so many different NVIDIA products that have been renamed and/or overclocked. The 8800 GT/9800 GT and 9600 GT can run into each other with factory overclocks. Thus this market is a bit more blurry than some of the others. The only AMD competition at this price point is the Radeon HD 4830.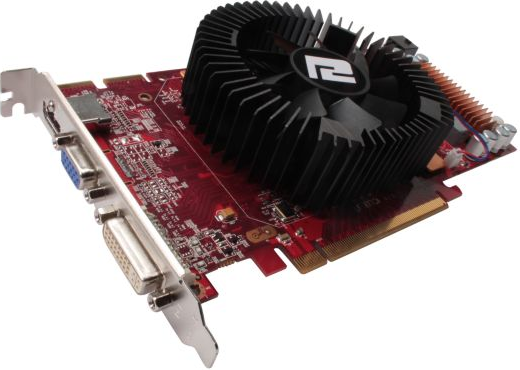 Our Recommendation? The Radeon HD 4830 (Image From newegg.com)
And the Radeon HD 4830 happens to be our general recommendation here. We do have to qualify that though. the Radeon HD 4830 can usually be had for about $110, but so can the 9800 GT, and it may be possible to snag an overclocked version for the same price. While the Radeon HD 4830 does well against the competition at stock speeds, this is the first place where you really have to balance overclocking and price. It is also worth it to try and find specific games you like benchmarked online and choose based on that information as well. The reason we've gone with the Radeon HD 4830 here is because you know what you are getting and it tends to do better than the competition at stock speeds and comparable price.
That and the fact that newegg has a major deal right now with mail in rebate allowing a card with performance greater than a stock 9800 GT to compete in terms of price with a 9600 GT/GSO: 85 freaking USD. Shipped for under $95 is a terrific deal.
Recommendation: ATI Radeon HD 4830
| | | | |
| --- | --- | --- | --- |
| Newegg | ZipZoomFly | TigerDirect | Buy.com |
| PowerColor Radeon HD 4830 | HIS Radeon HD 4830 | Sapphire Radeon HD 4830 | ASUS Radeon HD 4830 |
| | $115 | $110 | $109 |