Visual Inspection
The X470 Taichi Ultimate conforms to the ATX form factor and has one of the most unique PCB and heatsink stylings of any AMD based motherboard; it is strikingly similar to the previous X370 Taichi, but ASRock has gone with a much classier black and grey theme as opposed to white and black. The power delivery heatsink is made from aluminum alloy and carries a fair amount of mass to it. The chipset has a beautifully designed Taichi Ultimate heatsink which resembles a mechanical cog. ASRock Polychrome Sync technology is featured within the heatsinks and IO covering which allows users to create their own lighting effects. In addition to the onboard RGB LEDs is a single addressable RGB header as well as an additional standard RGB 4pin header.
To the bottom right-hand corner of the PCB is a basic overclockers toolkit which consists of a POST debug LED, a power button, a reset button and a second clear CMOS switch; a second clear CMOS button can be found on the rear panel. The board has a total of five 4-pin fan headers across the board, with a single 24pin ATX motherboard power input in addition to an 8+4pin 12 V CPU power input to provide additional power to the processor if an applicable situation arises. The board will however work absolutely fine with just the 8-pin 12 V CPU input populated from the power supply.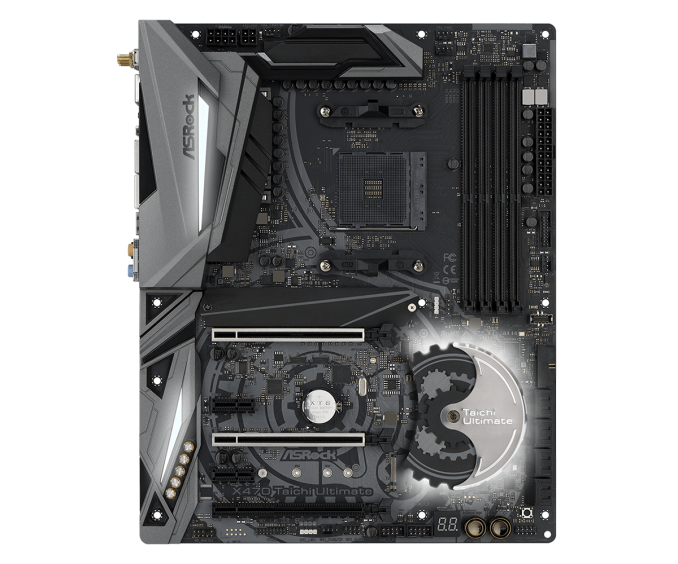 Focusing on the storage options available, a total of eight SATA 6 Gb/s ports have been included with support for RAID 0/1/10 arrays. Six of the SATA 6 Gb/s ports operate directly from the X470 chipset while the additional two ports are driven by an ASMedia ASM1061 SATA controller. There are two M.2 SSD slots, with the primary slot located just above the top full-length PCIe 3.0 x16 slot which has full NVMe capabilities thanks to the attached PCIe 3.0 x4 bandwidth. This slot also features a dedicated thermal heatsink and supports M.2 22110 (22 x 110 mm) drives. The second slot supports PCIe 2.0 x4 drives, as well as support for SATA based M.2 drives, but using the second slot does disable the full-length PCIe 2.0 x4 slot at the bottom of the board due to sharing the same bandwidth allocation from the chipset.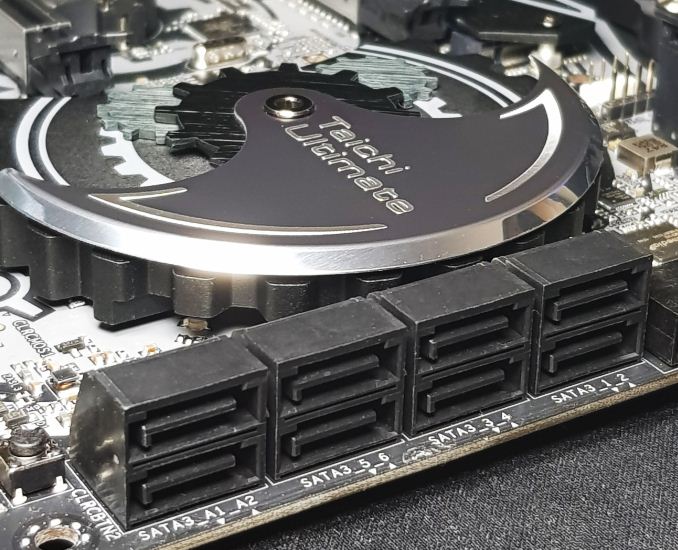 One of the notable improvements on the X470 chipset with the Ryzen 2000-series generation processors is memory compatibility, more specifically, the memory speeds that are capable of being achieved. The ASRock X470 Taichi Ultimate officially supports DDR4-3466 with a total capacity of up to 64GB split across the four available memory slots. This marks an improvement over last year's first generation Ryzen where issues concerning memory compatibility were rife; these did however, get addressed thanks to a wave of firmware updates.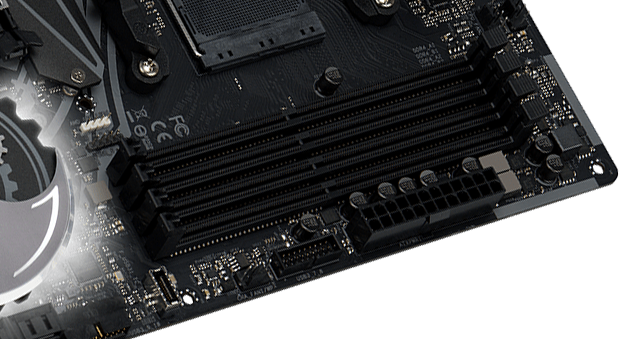 When it comes to power delivery, the X470 Taichi Ultimate has one of the most imposing on not just X470, but of all AM4 socketed motherboards, with a 16 inductor design (12+4). The bulk consists of sixteen individual Texas Instruments 87350D NexFETs 40A MOSFET power blocks, eight rear mounted International Rectifier Infineon IR3598 multi-channel dual output doublers, as well as sixteen accompanying ASRock 60A power chokes. Controlling the power delivery is with a single 6+2 configured multi-channel IR35201 PWM controller. An 8-pin EPS and additional 4-pin are present to feed power to the CPU, on top of the 24-pin ATX power connector for providing power to the motherboard. This power delivery mirrors the configuration of the previous X370 Taichi models which featured one of the better AM4 based power deliveries which was seemingly popular with overclockers.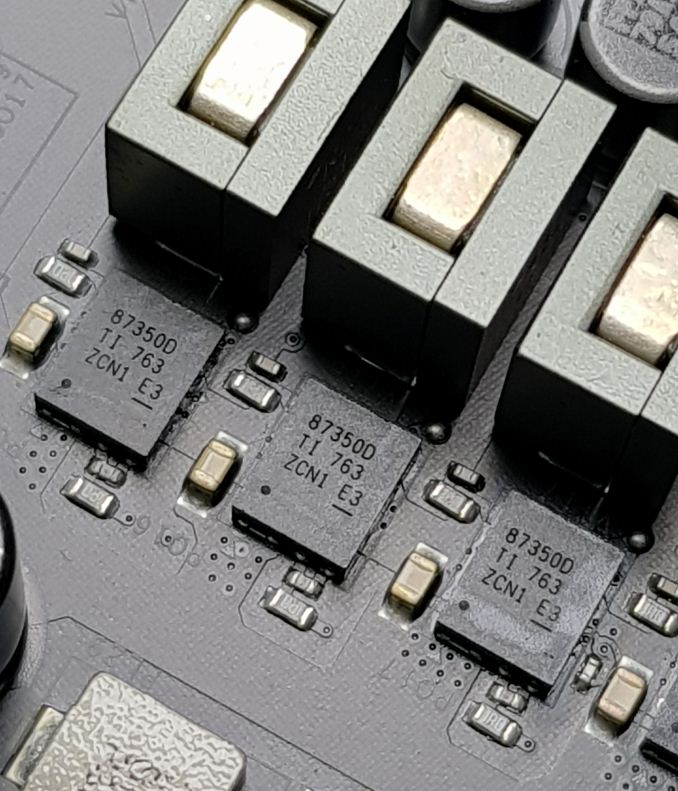 The ASRock X470 Taichi Ultimate implements a Realtek ALC 1220 audio codec which is found on many of today's more recent and released motherboards, and remains one of the most popular onboard codecs to date. The audio PCB area doesn't contain any physical PCB separation and the codec is left bare without any EMI shielding. This is rather poor on a $300 motherboard, let alone on a vendor's flagship offering on any chipset; ASRock could have done more here to put more emphasis on quality and premium elements instead of marketing specific areas as opposed to a well-balanced offering throughout. A plastic covering does protect it from foreign objects however.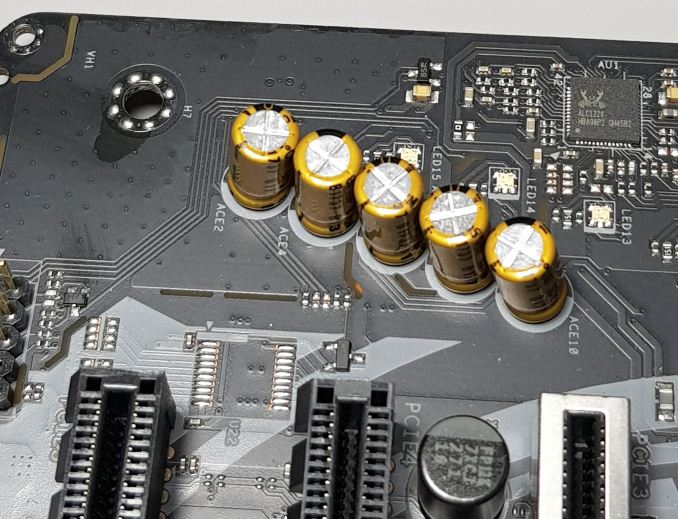 A good variety of connections is present on the rear panel as the X470 Taichi Ultimate omits USB 2.0 ports from the rear completely in favor of USB 3.1 Gen1 Type-A ports, six of them to be exact. USB 3.1 Gen2 is also featured through a single Type-C port with a single Type-A housed just above it. Expanding the rear USB ports is a pair quaternary of front panel headers; two USB 3.1 Gen1 and two USB 2.0 making an additional eight ports available which equates to two per header. The most extraordinary inclusion is an AQUANTIA controlled AQC107 10 Gigabit LAN port, with a secondary LAN port being fed by an Intel I211-AT Gigabit controller; the X470 Taichi Ultimate is the only X470 board at launch to feature 10G LAN. Also featured is wireless connectivity which is provided by an Intel dual band 3168NGW 1x1 Wi-Fi adapter. Rounding off the remaining ports is a single HDMI 1.4b compliant video output along with five 3.5mm jacks and an S/PDIF output powered by the Realtek ALC 1220 codec.

What's In The Box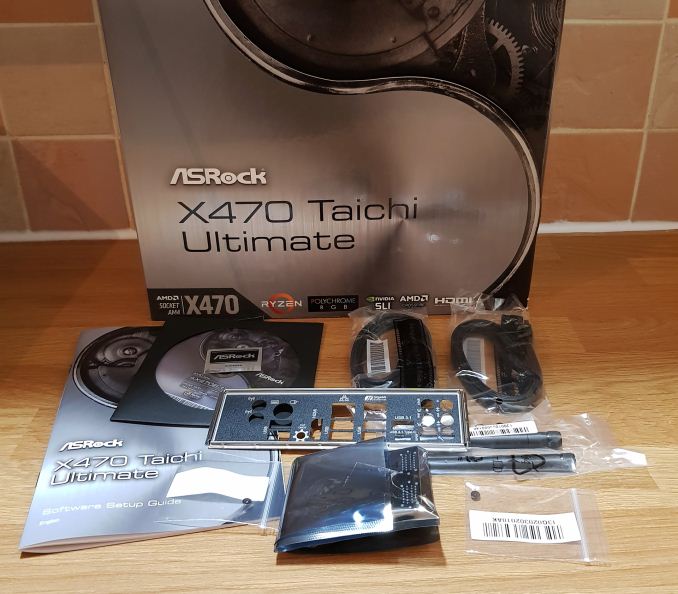 Bundled with the ASRock X470 Taichi Ultimate is a rather basic set of accessories for a board considered to be a flagship, but everything is present that you would expect including the necessity such as four SATA cables, Wi-Fi antennas and the I/O shield.
Driver Disk
Operation Manual
NVIDIA SLI HB Bridge
Rear I/O Plate
Four SATA 6 Gbps cables
ASRock Postcard
Case Badge Sticker
2T2R 802.11ac Wi-Fi Antenna